California artist Dillon Forte knows a thing or two about tattooing and art. With his passion for sacred geometry tattoo work, his clients from around the world seek out his unique tattoo skills and intricate, unique geometric designs. From the hands who has recently tattooed Chris Hemsworth, Usher and Khelani, Dillon Forte is constantly pushing his own boundaries and has recently released a line of sustainable tattoo products under the name Forte Tattoo Tech.
Having a mother as a novelist and a father as a fashion photographer, creative arts is definitely in Dillon Forte's blood. After getting his first tattoo at 16, Dillon fell in love quickly with the craft and artwork of tattooing ever since that first piece of art. Once getting an apprenticeship at 19, Dillon found his tattoo style quickly in sacred geometry, dot work, and blackwork. Using his love for the craft to travel the world, Dillon has been across the globe tattooing on a variety of athletes, celebrities, and musicians. Taking inspiration from the mathematics behind nature, Forte likes to share the message of interconnectedness as well as a profound state of wonder and awe with his tattoo work. 
While the tattoo industry can be a rough industry to get involved in, Dillon believes that tattooing is a community and is a big advocate for going to conventions, meeting fellow artists, and supporting each other and each other's work. As cited in KivoDaily.com "I believe in manifestation, and I truly feel that what you think about, you bring about. So I am aware of these thoughts and believe keeping a positive mental attitude is key to success." Using this positive mindset, belief in using a talent to make a difference, and appreciation of the Earth, Dillon has recently started his own sustainable tattoo supply business: Forte Tattoo Tech.
"Most products used in our industry are disposable and made from plastic or other petroleum products. Each time we toss something in the trash, there's a bit of guilt. Something needs to change."
Dillon Forte
Building these supplies was no easy task. After hitting many walls in early development, Dillon took the time out of his busy schedule and did the research to find the highest quality of materials. Including sugar cane, hemp, paper, and bamboo for his Eco Razors and other products on the Forte Tattoo Tech line. Dillon's work can also be found in a partnership with Inkbox temporary tattoos. The tattoos are described as 'for now' tattoos that are designed to last 1-2 weeks. The idea behind these is to give people a chance to try out his art and have some fun with it. 
You are a pioneer in your field, can you describe how it all started?
As long as I can remember I've been making art. As an adolescent my passion for skateboarding led me to Telegraph Avenue in Berkeley California where I turned my attention to tattooing. I used to hang out at 510 Skate Shop, and that's where all the tattoo shops happened to be. There was one right next to the shop and a bunch of the guys who were working at the skateshop had tats and that led to me getting some.
After years of pursuit I got a tattoo apprenticeship. I had a strong interest in sacred geometry and eventually it became one of the main focuses of my tattoo work. It's really just an example of believing in yourself and willing to take chances and get out there. With enough hard work you can achieve whatever you set your attention on.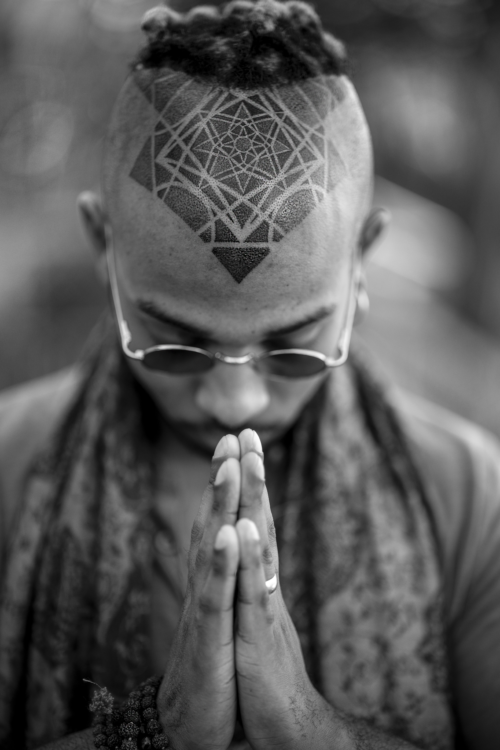 What does sustainability mean to you? Can you describe your passion about sustainability?
I believe most products are made in this world out of simply saving money and convenience. As a responsible global citizen, we seriously need to take a step back. We have to look deeper into how each product affects not only our lives and careers, but also the environment. From the electricity we use to those everyday, and often disposable items for work. Everything leaves a footprint and is a step backwards for humanity. My goal is to not only do the best I can with going eco-friendly for my tattoo work, but to hopefully create inspiration and products for other artists to use as well.
My passion for nature and reducing our footprint also comes from my passion for traveling around the world. I immerse myself in these amazing areas of the world and feel that connection with nature. I guess a bit of guilt sets in when I start to tattoo clients and know that some of these tattooing products go in the trash and take forever to break down in waste facilities. If something as focused as the tattoo industry can start using eco-friendly products, we are at least doing our part and hopefully inspiring others to follow suit. 
The trend of sustainability is here to stay. How do you think your industry can adapt to this new holistic approach?
I think the industry is already in the mindset to go eco-friendly. It is just a matter of making the product available. And also creating awareness so these tattoo studios around the world know they have better options for the cups, cling wrap and other products that usually aren't very environmentally friendly. We are all busy with our lives and work, so sometimes we need to make the solution obvious to those who perhaps weren't thinking about it at the time.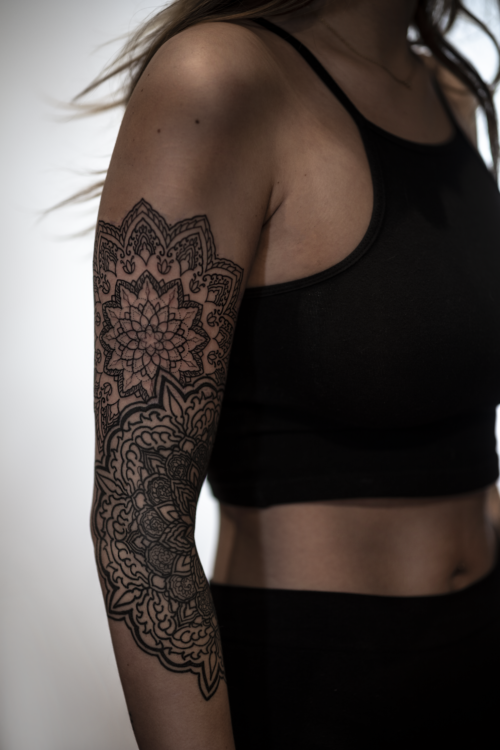 If you have to choose one motive to tattoo, what would be your favourite choice?
My motive for tattooing is passion for the art and creativity. I do what I love and thankfully it's turned into something much bigger than that. It opened up doors for me to do creative collaborations, canvas art, sculptures and most recently started Forte Tattoo Tech to help out the industry as a whole.
Gratitude to his parents
Aside from tattooing, Dillon is also a sculpture as well as a canvas artist, whose work can be found in a variety of galleries as well as special events/exhibitions. Being a successful artist, Dillon gives credit for his young success to his parents in this quote from an interview with KivoDaily.com. "I'm eternally grateful to my parents. They have been supportive of me every step of the way and always encouraged me to express myself creatively. For those fortunate to have great parents to route you along the way, listen closely and take in all that wisdom. Many try to do the opposite of the parents, which sometimes is necessary, but I always say there are bits of wisdom to pick up along the way. For those without close parental relationships, I would say seek out mentors and directly ask them for help. You'd be surprised who will, as 99% of people simply never ask for guidance. "
For more information on Dillon's work, those interested can find him on Instagram as well as DillonForte.com. Dillon is based out of his studio, Sri Yantra in Venice California, and can also be found tattooing in more unique locations around the globe. More information on Dillon can be found on his website, Instagram, as well as fortetattootechnology.com