Jason Hyde are disrupting the accessory industry by saying goodbye to harmful materials and welcoming the new era of eco-friendly components. 
The company started in Miami in 2018 to introduce time in a sustainable fashion. Their watch collection proved that an elegant and affordable time-piece, can also be dangerously sustainable.
They have partnered with the best in the business to use recycled materials, such as plastic water bottles, paper, cork, and biodegradable wool while maintaining a high standard of quality in their products. Many more eco-friendly materials are yet to come. But they do not only recycle; they have managed to use the world's waste and have transformed it into fashionable brand-new models. In their own words – "We upcycle every minute!"
Sustainable and recycled materials
Wool
JASON HYDE FLOYD STRAP FABRIC DESIGNED BY ASA PARSON
Kvadrat, the Danish textile company, takes the same responsible approach to their production and processes that has been the hallmark of their design philosophy since its founding in 1968. Kvadrat is dedicated to minimizing its environmental impact at every stage of production, from design to delivery, while ensuring a healthy working environment as well. The wools used in JASON HYDE Floyd straps strictly comply with limits set by the Danish Environmental Protection Agency's "list of undesirable substances." As such, they contain no azo dyes or dyes made with heavy metals. Asa Parson, from Sweden designed this beautiful fabric used in the strap.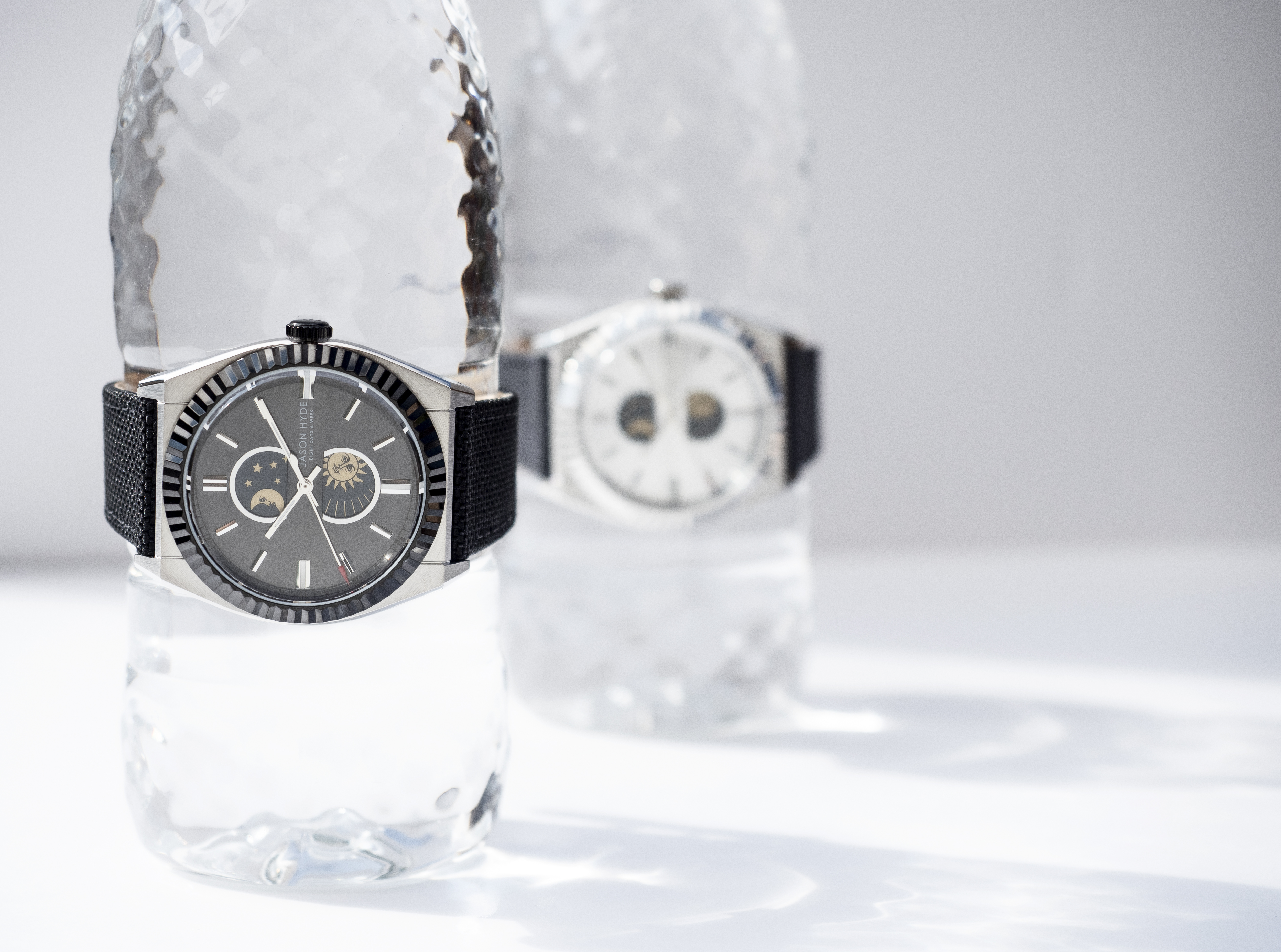 Recycled Plastic (PET)
JASON HYDE REVIVE 1 STRAP FABRIC DESIGNED BY GEORGINA WRIGHT
Kvadrat, the Danish textile company, using Recycled PET filaments from Radici Group , and designed by British designer Georgina Wright , make a product whose message cannot be clearer and more in line with our philosophy of brand. Accountability, we use prime material coming from recycled PET, the fabric is created by a transparent and committed designer such as Georgina Wright, and its manufactured by an ethical company such as Kvadrat in Denmark. All this finished by our proprietary thin layer of cork in the back of the strap.
Cork
ASON HYDE CORK FROM MIPE TEXTIL
Mipe Textil provides the raw material for all JASON HYDE watch strap backs, which are made from renewable and recyclable Spanish cork—an all-natural, organic resource that is fully sustainable when properly managed. Mipe Textil's mission is deeply rooted in a love and respect for the land, with the company acting as a link between the forest and the cork processing. Like JASON HYDE, Mipe Textil's key tenets include transparency, tradition and excellence.
Recycled paper
JASON HYDE PAPER STRAP TOPS BY TEXON
Italian design and innovation never cease to amaze, which is why for our "paper" straps we've sourced Vogue, created by Texon, a unique, proprietary, durable fabric-like material comprising 92 percent wood fibers, 5 percent natural rubber binder and 3 percent water and color pigments. Handmade in Italy, it's 100 percent environmentally friendly, 100 percent sustainable, meeting all of JASON HYDE and Texon's strict requirements for eco-friendliness, durability, sustainability and exceptional quality.