Retrouvé means "to find again" in French – and the brand is built upon the belief that joy can be found in taking a moment "to find again" the authentic beauty that survives and thrives within us. Created for men and women equally, each dynamic formula in Retrouvé's collection is based on skin type as opposed to gender.
Each formula harnesses high-octane active ingredients in superior concentrations and textures that set a new standard in luxury skincare. Containing a synergistic blend and unparalleled level of beneficial antioxidant ingredients. Each product works to address a multitude of skin concerns, including: hydration, fine lines and wrinkles, firmness, elasticity, and brightness.
More than just a brand
Retrouvé is the continuation of a beauty legacy. Deeply rooted in the beauty industry, Jami grew up alongside generations of family at Kiehl's, eventually running the iconic company with her husband, Klaus.
Their products represent an anthology of experience, research, and collaboration in luxury skincare; they were originally created by Jami and Klaus for their own personal use. And as such, no compromise was made in the cost, quality, or research behind the ingredients or processes used to develop the formulae.
Retrouvé is produced in the brand's own cruelty-free labs. Its formulations feature ingredients grown sustainably on the family's ranch in Malibu, in accordance with the "green" principles of permaculture. All products in the collection are not tested on animals. Also they are free of synthetic fragrance, artificial colorants, sulfates, parabens, mineral oil, dimethicone, formaldehydes, hydroquinone, oxybenzone, triclosan, benzalkonium, toluene, resorcinol, acetone, coal tar, SLS/SLES, triclocarban and phthalates.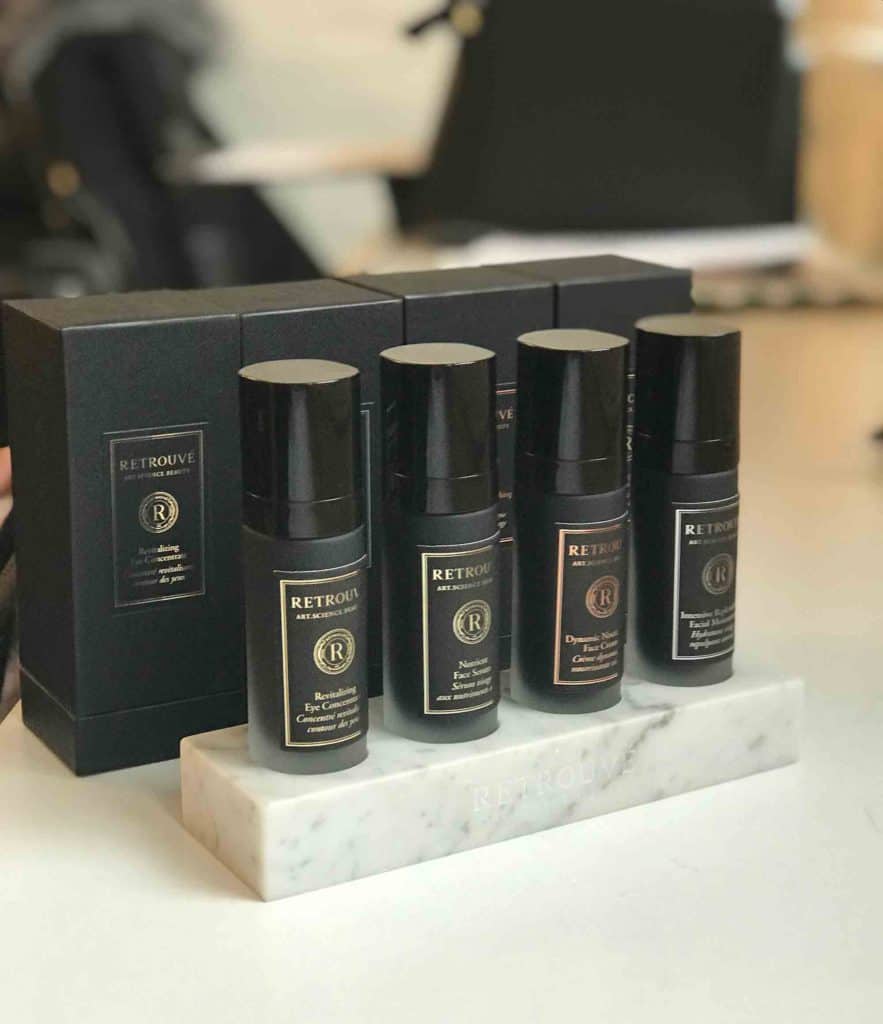 Are RETROUVÉ products clean?
The brand harnesses the power of advanced skincare technologies and potent concentrations of anti-aging ingredients. In a unique delivery system that penetrates the skin profoundly. Each of our dynamic preparations contains a synergistic blend of ingredients that are known to address myriad skin concerns. Includes hydration, fine lines, and brightness, and offers an unparalleled level of beneficial antioxidant. All ingredients help impart a healthy and radiant glow to the skin.
They source the highest grade of ingredients on the market from suppliers who have ethical and sustainable business practices and history of quality. Including ingredients/produce that we grow naturally ourselves on our farm in Malibu according to the principles of permaculture.
United in this time of global uncertainty, Retrouvé is dedicated to supporting those on front line of the Covid-19 pandemic. To support national healthcare workers. Retrouvé is donating 10% of all purchases made on www.retrouve.com this month to the Frontline Responders Fund.