Bond Morgan combines pioneering alternative sustainable materials for a circular economy and multifunctional design to create a bag for mutable environments. The Mutatio design has a different variation for each day of the week, multifunctional, adaptable and sustainable.
Why we create with sustainability at the forefront of our designs?
Modular design in fashion means there is less waste. If modules of a product can be replaced or added without affecting quality of the rest of the design this can counteract the 'fast' mindset. Which creates a constant sense of necessity and ultimately dissatisfaction. An effective modular design can only be achieved if the division between the modules are simple and not as complex as the design itself.
Bond Morgan herself believes design is absolutely critical to sustainability. If we don't design things that people love, they will be discarded, further exacerbating our waste problem globally. However, if we create beautiful items that move and inspire us, they will be treasured and preserved forever. Repairing, reusing and recycling items instead of overconsumption is key for the circular economy.
Mutatio Bags
Adaptation is in the consumers hands. Rucksack to Tote, Satchel to Handbag, all by a combination of strap adjustments and a body that can be adapted or customised to your style or needs. Seven variations in one bag. Through simple adjustments the bag can be made big enough to hold your laptop and essentials on the move. An oversized Tote can also be created by adding additional panels, for instance your partners/friends or additional bags or panels purchased. The Mutatio bags are a collection for the future allowing you to mix and match panels between them, creating your own customisation. The extended bag provides you with a backpack, handbag and a tote. By unzipping the inner panel, the compact bag can provide you with a backpack, handbag, shoulder bag and a satchel. Additional panels can be a product for future purchases.
What inspired your design?
The Copenhagen Fashion Summit reported fashion is responsible for more than half of the solid waste that ends up in landfills each year. Therefore, we are dedicated to our multifunctional modular design. This allows us to integrate new with existing capabilities. We want to respond quickly to changing environments. Mutatio bags can be independently created or modified over years. This interaction engages the consumer by changing styles incredibly easy. With its ergonomic design Mutatio allows the consumer multiple configurations from one product, making this bag not only sustainable but an embodiment of the notion "less is more".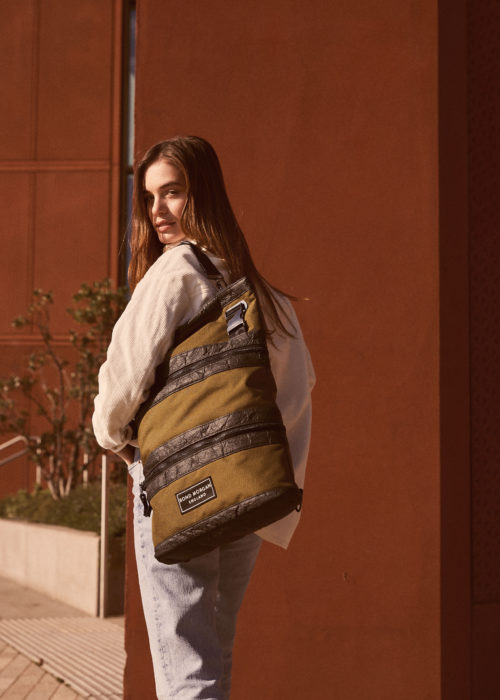 What materials do you focus on using?
The fashion industry continues, new clothes are being thrown away, trends keep changing and consumers continue to buy. On average, there is a 52-season cycle, meaning the fashion industry can offer a new collection every week where as a modular design creates a circular fashion economy. The Ellen MacArthur Foundation defines a circular economy as, 'a sustainable, cost-effective, high-quality, environmentally friendly and environmentally sustainable economy'.
The Mutatio bag collection uses not only ECONYL® regenerated nylon, but combines this with materials from recognised plant-based textiles Pinatex® made using the fibers from pineapple leaves and Desserto® harvested from the cactus plant.
To combat climate change we ensure that the materials we buy are manufactured with environmental considerations in mind. Our shell, lining, webbing, tape and binding are made from 100% ECONYL® regenerated nylon. RPET (recycled plastic bottles) is used for our Zips, Labels, Threads and Padding.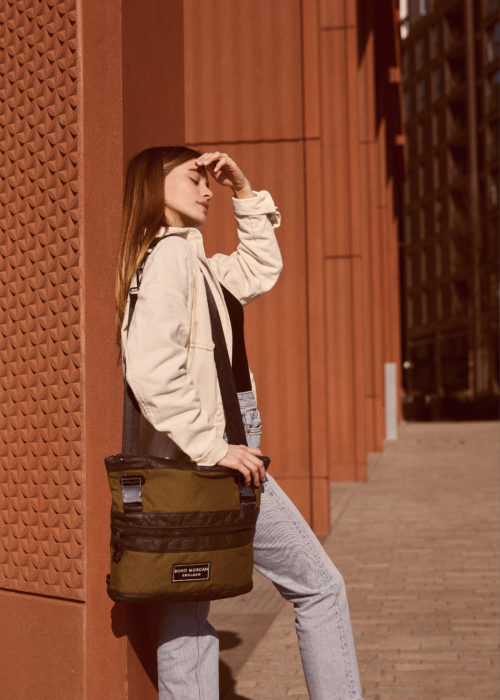 ECONYL® yarn is produced by rescuing waste including fishing nets, carpets, fabric scraps and industrial plastic. ECONYL® yarn performs exactly the same as virgin nylon. It can be recycled, recreated and remolded indefinitely, which is why we used this yarn as a top priority in our designs. For every 10,000 tons of ECONYL® raw material, 70,000 barrels of crude oil are saved and 57,100 tons of CO2 equivalent emissions are saved.
We use Piñatex® as an alternative to using leather and petroleum-based textiles. Not only a natural, non-woven material made from pineapple leaf fibers but also a by-product of the agriculture industry. Therefore, no extra land, water or pesticides are required to produce this lightweight and durable material. At its end-of-life it can be shred into geotextiles. The geotextile can then be used to protect the soil from erosion as well as insulation purposes for buildings. All the dyes used are GOTS approved and vegan.
Today, there are 13 million tons of waste from pineapple agriculture every year. With this waste, over 50% of the global leather production could be replaced, without planting a single pineapple. The local community benefit with a second income from their harvest.
Why are multifunctional designs important to Bond Morgan?
Innovation has the potential to democratize fashion on a huge scale, improve access, promote sustainability, accelerate and redefine the face of the fashion industry. We believe being able to adapt designs, the consumer and the environment can both benefit. Technical multifunctional designs can help to eliminate much of the environmental damage in the fashion industry, often blamed for a range of environmental problems including air/water pollution and climate change.
With 9 years left to reach the 2030 Agenda for Sustainable Development that address global challenges related to human development, poverty, climate change, human rights and environmental sustainability. We design with innovation at the forefront whether this be in the materials we use or our design concept.
We reduce fabric waste by designing with rectangle pattern cutting. Reduce our carbon emissions by using textiles made from recycled materials. We work towards a circular economy to help us build a sustainable environment, where products are not easily wasted and everything is at maximum potential. Fabric technologies such as partially biodegradable fabrics allow us to continue innovative approaches.
We create accessories that are adaptable in a multitude of ways, this plays a key role in creating a less wasteful industry. Striving for a zero-waste philosophy in what we consume. Although textile innovation such as RPET is an important step towards a circular economy, there are still issues that need to be solved. For example, plastic recycling is not the answer to produce more virgin plastic!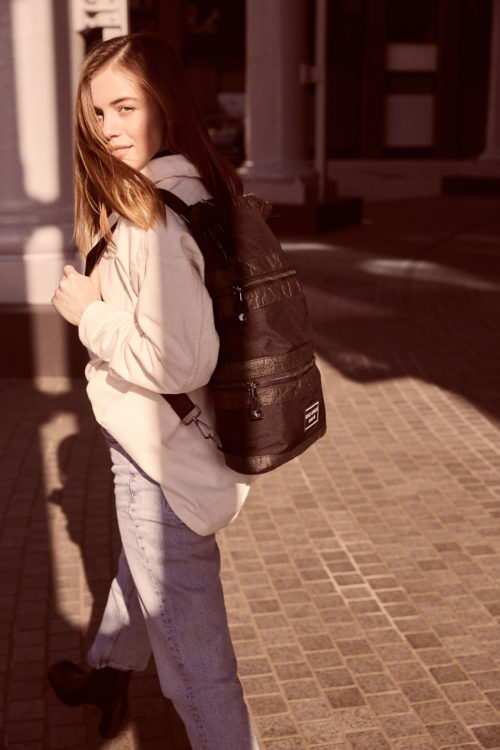 Green Product Award 2021
The Mutatio collection features in the Green Product Award 2021 trend book. In February 2021, 1461 participants from 51 countries applied for the Green Product Award 2021. They were screened under the aspects of design, innovation & sustainability, pre-selected and finally nominated. Bond Morgan's multifunctional bag Mutatio was selected as a finalist in the category Fashion.
The international Green Product Award is rewarding products and services, good in design, innovation and sustainability since 2013. The aim of the award is to share good examples for the public and to provide feedback for the participants. The Green Concept Award is held in cooperation with IKEA-Stiftung.
How did you find launching a business during a global pandemic?
The brand launched in 2020 during the peak of the pandemic, with the main objective to focus on our sustainable views and our multifunctional design concept. We decided to manufacture in England, supporting the local community during this time of uncertainty. We are dedicated to continue to support manufacturing in England and around the United Kingdom. This helps lower our carbon footprint and supports our national economy.
How do you ensure ethical practices?
Our production processes, supply chains are clean and responsible, making us the top choice for customers who value sustainability. Our designs are unisex. We ensure that our suppliers support the environmental ethos of the brand by focusing on their quality of materials. Shopping for sustainable fashion is just one of many ways we can all do our bit to combat climate change. Whether it's getting rid of plastic bags, switching to reusable products or pursuing a sustainable lifestyle. We put sustainability at the heart of our practices by sourcing the highest quality materials worldwide.
The design process and material combinations are totally unique to Bond Morgan. We support the local economy. Our start-up is based in Bristol England and we are the first to innovate with this number of patented collaborations. Bond Morgan creates with low environmental impact, upon each purchase and we donate a percentage of profits to One Tree Planted.

As seen in VOGUE & stockist WOLF & BADGER LONDON
Since being a finalist for the Green Product Award 2021, the Mutatio collection has been featured in Vogue, Green Trend Book and is currently being stocked in-store and online at the Award-Winning ethical retailer Wolf & Badger, located in Kings Cross Coal Drops Yard, London UK.
Read more:
www.bondmorgan.com
contact@bondmorgan.com
Follow us @bondmorganengland