MeVerde translates as "I am Green" sprouted from the theme that "Earth has no spare, but we need to act so Earth can spare us". We would like to call this as a modern-day green movement inspiring through fashion. Live and Let Live is our mantra. We aim at providing high end fashion products that's plant based produced sustainably without causing any damage to environment throughout the process.
We aim at sustainability around all the corners of the play that truly depicts the core philosophy of Good for People and Good for the Planet. Our key pillars are based on the 4P concept that related to people, product, planet and process. Anything and everything that we do is connected to one of the 4P's and our model is intertwined in a way, so we benefit from one another. 
Just like fast food, fast fashion is injurious to the planet health. It can leave a long-lasting impact as earth has no spare. We aim to resurrect the slow fashion. Build product that lasts and capture ethical process throughout the production cycle. 
Versatility 
We believe in the mantra "Less is More". Our key innovation is the design where its highly versatile. Each bag can be used in multiple different ways and caters to all occasions, being classy or contemporary without compromising the mood of the person. We have developed range of accessories that gets along with the bag based on the utility and the preferred style of the consumer. It also enables every single consumer to use their creative approach to mix and match the accessories to tailor one asset into multiple ways. This allows the consumers the option to not restrict but the freedom to exercise their creativity as desired.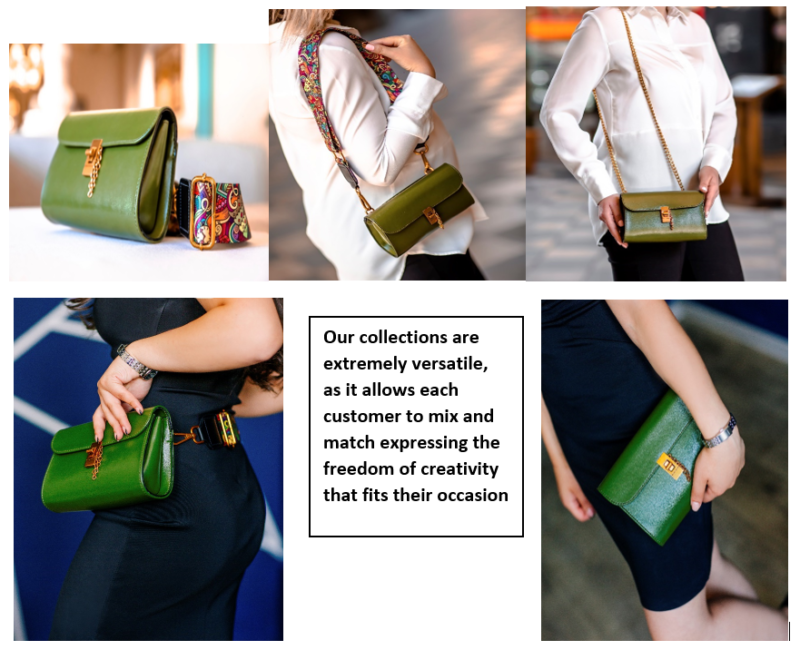 Powering fashion by plants
We are a tribe who believes in guilt and cruelty free luxury fashion. Leather undisputedly sets a stage in the fashion industry for its longevity and the material feel. We are here to intervene that cult by introducing a plant-based innovative leather (cactus leather) that's equivalent to the one derived from animals. Nature always provides alternate pathways that's good for you, good for the planet and good for the community. We are here to find those alternate ideas by listening to nature with right frame of mind. Through our great partnership and skilled artisans, we have made it possible. Yes, plant-based luxury fashion with no side effects. 
Empowering artisans 
We are firm in demonstrating ethical behavior throughout our supply chain. Our team has always been very careful about protecting the artisans who are the invisible magicians in creating the beauty behind the screens. All our team are being carefully scouted, our artisans have acquired generations worth of skill to create the best product and we chose to operate in the artisanal community affected due to war and geo-political turmoil. Unfortunately, artisans are the group of people that gets hit due to all these unforeseen events and always the last to have any sort of economic recovery.
We ensure that our artisans are remunerated well and treated with respect. No child labor or any sorts of exploitation have ever been a part of the process.  
Minimizing Muda
Our team has been strongly focused on minimizing the waste during the production process. Our operating model is "Made to Order" where the product gets built upon order rather than holding heaps of inventory. We also reduce the waste generated during the production and re-utilize the waste into meaningful products. This allows our facility as "zero-waste" site. 
Completing the full circle 
We also want to ensure that this movement is geared towards people and future generations. We have laid down policies in place to ensure that part of the profit gets shared with the non-profit organization that we have partnered that focuses on under privileged child welfare.
As a closing remark, we would like to reiterate the fact that its not just any business but a true and bold green movement. There are several ways and means to raise awareness, while we chose fashion as our medium where both passion and mission converged in the creation of ME VERDE. I am Green, are you?