Voylok is a story of four friends. Four very different people, from different places, with different backgrounds. But who were all looking for something more from life. Not more money or more "things" but more purpose. What brought themtogether was that none of them found it in the city, or in our careers, or parked on our drive. They found it when they unplugged and got closer to nature. And they also found it in these wild boots, made out of nothing more than wool + hot water. Boots that the moment you slipped on will make you feel a little more connected to Mother Nature.
This is a story from the founder of Voylok:
We realised in looking for our own purpose we found something that mattered to us all: the chance to help everyone unplug + get closer to nature. Our lives today are just a little wilder than they were. And it feels pretty good….We believe we make the most sustainable boot in the world – and that we do so by focusing our efforts across our entire supply chain (and beyond) on rewilding.
Rewilding is a proven theory of conservation that revolves around restoring balance in nature. Using a variety of methods – from regenerative agricultural practices, to encouraging Mother Nature to just do her best work, it's a low effort, high reward solution to the survival crisis that is facing humanity. While we're not close to perfect, we have consciously chosen to build VOYLOK to do as little harm as possible. We map the carbon impact of every step of our operations, from the sheep grazing, all the way to your feet, and create a full Carbon P&L to sit alongside our traditional accounts.
We've laid out the concrete steps we take to minimise our environmental impact below, but we do make carbon emissions and therefore we're clearly part of the problem. To mitigate this, we support rewilding and reforestation projects that allow us to guarantee we take at least 50% more carbon dioxide equivalent greenhouse gases out of the atmosphere than we put in.
The Product:
VOYLOK boots are made with wool and hot water – that's it. No seams or stitches, no dyes, no chemicals, no waste. One pair of boots will take you anywhere you want, from deep snow to desert sands and if you slip off the natural rubber overshoe you can even wear them at home. Because they are so easily separated, it makes end of life solutions simple: the wool boot goes in your garden or compost, and the rubber overshoe goes in the recycling. It's that simple.
They are Naturally Technical
The wool creates unbeatable insulation and breathability.
They mould to your feet for a custom fit providing exceptional comfort.
The wool fully biodegrades at the end of its life.
They are Incredibly Versatile
They are a 2 in 1 boot – perfect for both inside and outside (thanks to the removable rubber overshoe)
They work on the beach, in the forests, on the moors and in your home.
They are Joyfully Simple
They will let you slip into Nature easily – (no laces = easy to slip on and off)
One wild boot designed to help you unplug + get closer to nature.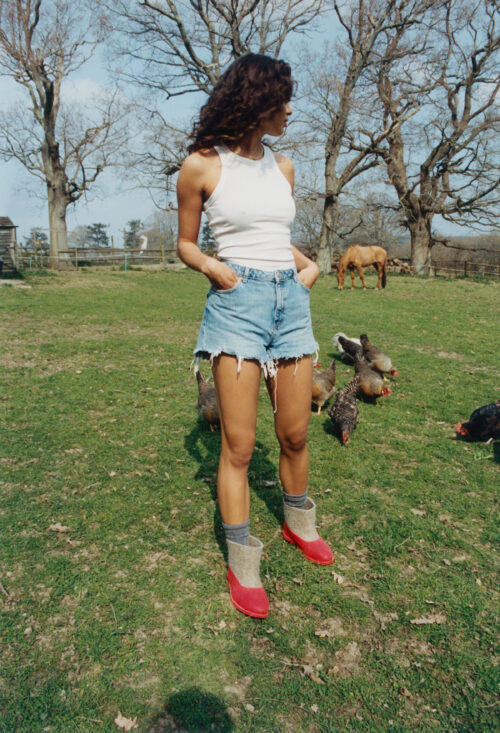 Product Promise:
ZERO WASTE: Our boot is moulded around a last, creating practically no manufacturing waste (any offcuts can be re-felted into another product, or given to local farmers for use in their fields)
ZERO PACKAGING: VOYLOK boots come in a reusable RePack bag – no tissue paper or cardboard boxes in sight. (Because the last thing our customers need or want is yet another cardboard box clogging up their hallway and recycling centres)
ZERO CARBON: All 22 kgCO2e of carbon is offset via certified rewilding projects.
Our sustainability platform is entirely focused on rewilding – so creating a more biodiverse planet where both nature and humans thrive.
Customer Promise:
For every pair of boots bought, we plant a native tree on our customers' behalf – such as alder, birch, rowan or willow. We plant them in deforested areas of the UK helping to turn open hillsides and glades into healthy, diverse and meaningfully wild forest areas. These rich habitats will, in turn, support the return of abundant animal and bird life from red squirrels to pine martens and even golden eagles. Creating a wilder world for everyone to roam.
Company Promise:
We also offset 150% of our carbon footprint through rewilding initiatives (including our transportation, operations and even our team and their families – three oft-neglected areas of offset).
"There's no such thing as "perfect" when it comes to sustainability – but we do believe we have created the most sustainable boot on the market. From regenerative wool to planting wild trees, from offsetting through rewilding initiatives to encouraging you to unplug and get into nature – all of these contribute to a more fulfilled and abundant planet and its people."
VOYLOK