Something has been moving for some time in the bowels of fashion, something is changing and that is that the sustainability of fashion. In Spain it is gradually growing and making a niche for that new type of customer who values very much the fact of caring for the planet and being aware of the products it consumes.
One of the leading designers in the sector is Susana Álvarez Berlin. For her, fashion is a personal product and not a mass product that has been absorbed by speed and the collective, so why not return fashion to a more personal space, more qualitative, familiar, sustainable and more ethical?
Slow fashion – Quality before quantity
The garments that Susana designs remain unalterable before seasons or fashions. She creates unique experiences, desirable objects with a very individualized service.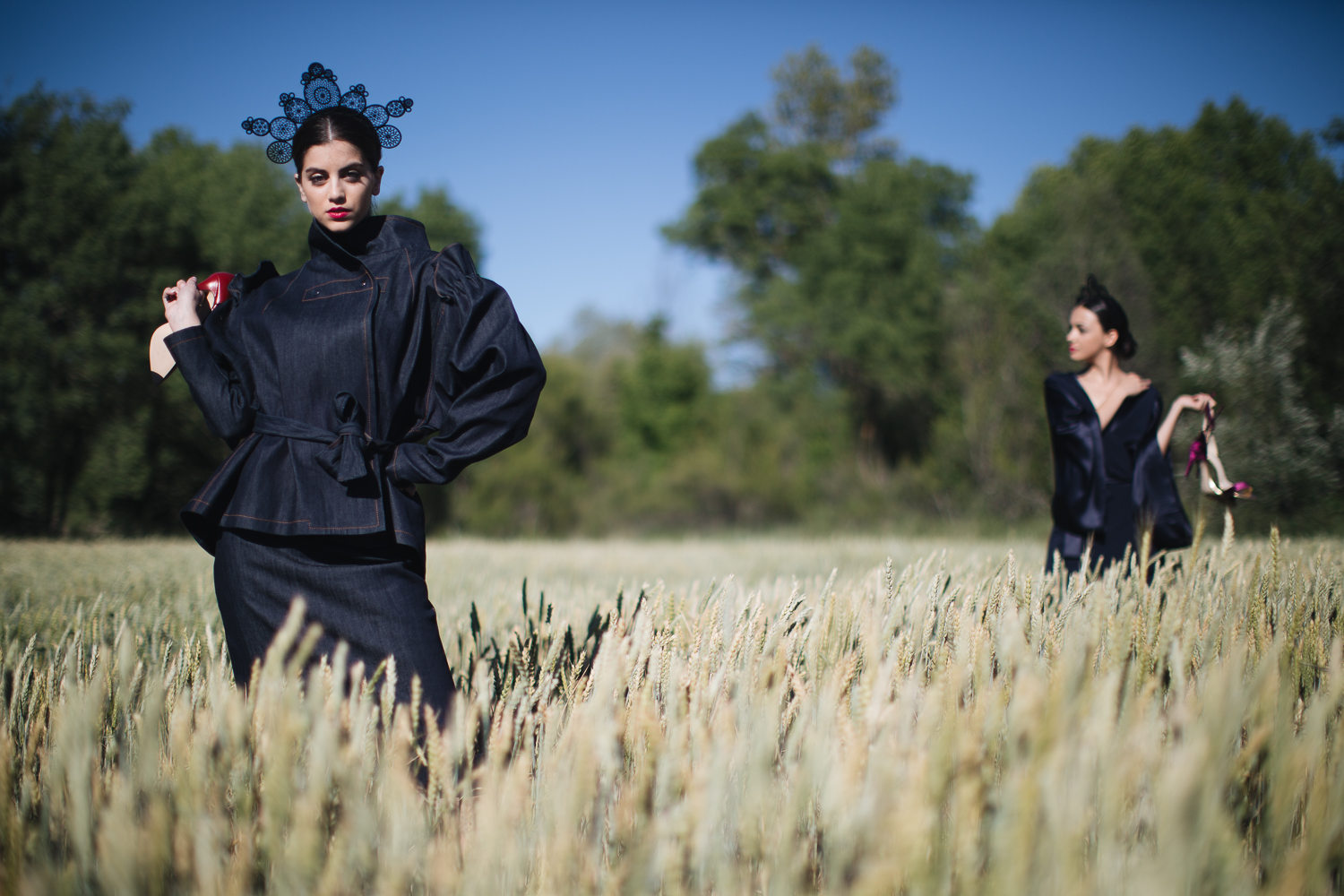 Quality before quantity, the individual before the collective and comfort as the core of the product.
On this occasion we made the session with a kimono and a jeans set of the designer, we accompanied the looks with the headdresses of Lucia de Gustín.
The set of skirt and denim jacket are part of the MIRAMAR capsule collection, 100% organic and sustainable. The unmistakable urban style of Susana, minimalist and elegant, is embodied in it.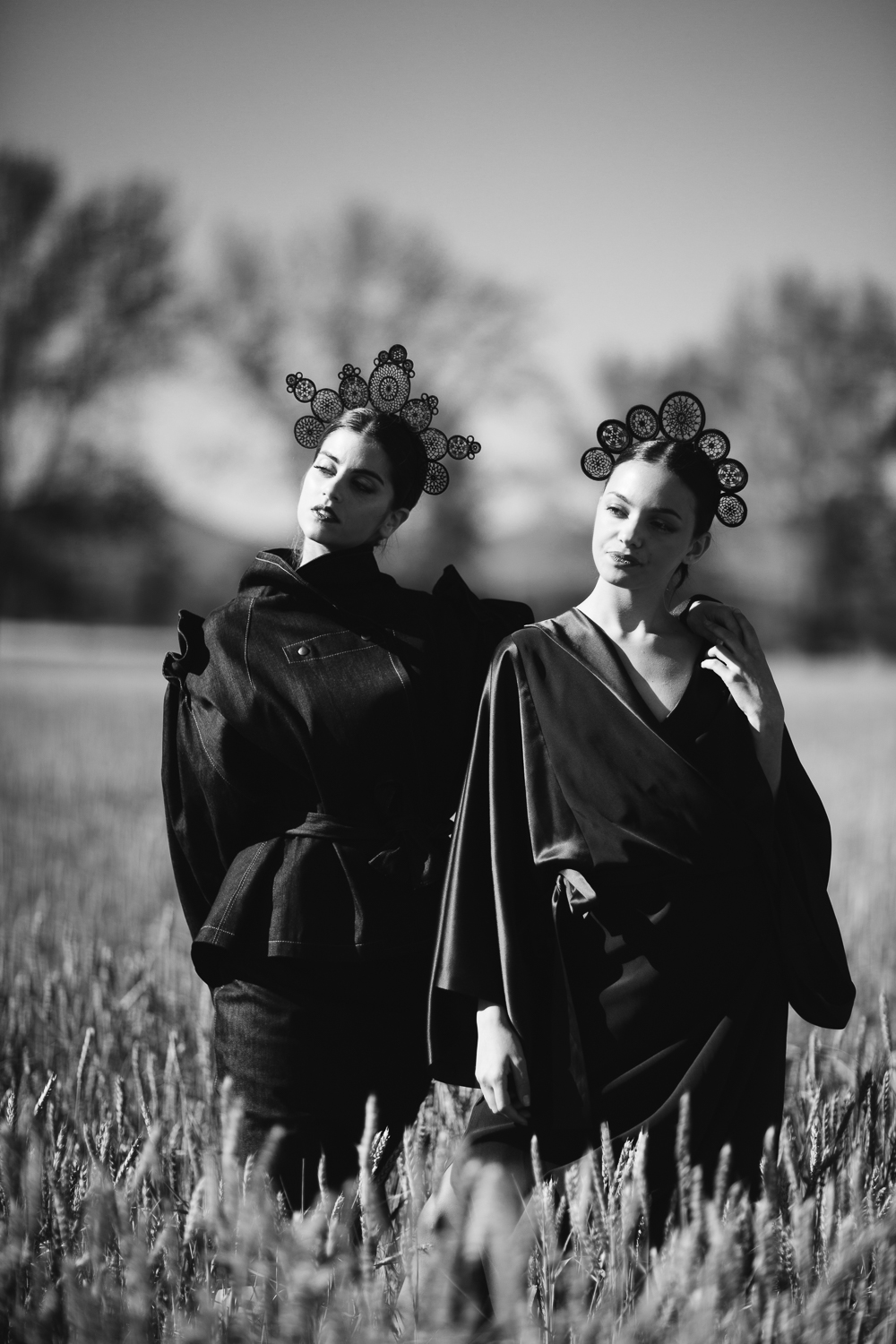 The denim, or jeans fabric, belongs to the Portuguese company Troficor Denim Makers with GOTS certificate.
Lucia de Gustín's headdresses are woven with care and delicacy. The base is made of locally produced biodegradable PLA material.
The crown is woven with sustainable sewing threads, SCANFIL, non-toxic colors and GOTS certificates. Spun in Italy, where the overall process of transformation from seed to final product ensures that the cotton and its processes are under control.
The fact that the crowns were made with this type of yarn, which is not for weaving but for sewing, adds more laboriousness as they were woven with extremely fine needles.
The kimono is an ethical, versatile and comfortable product. Although it is not an organic material, its quality and timeless design increase the longevity of the product, making it a wardrobe.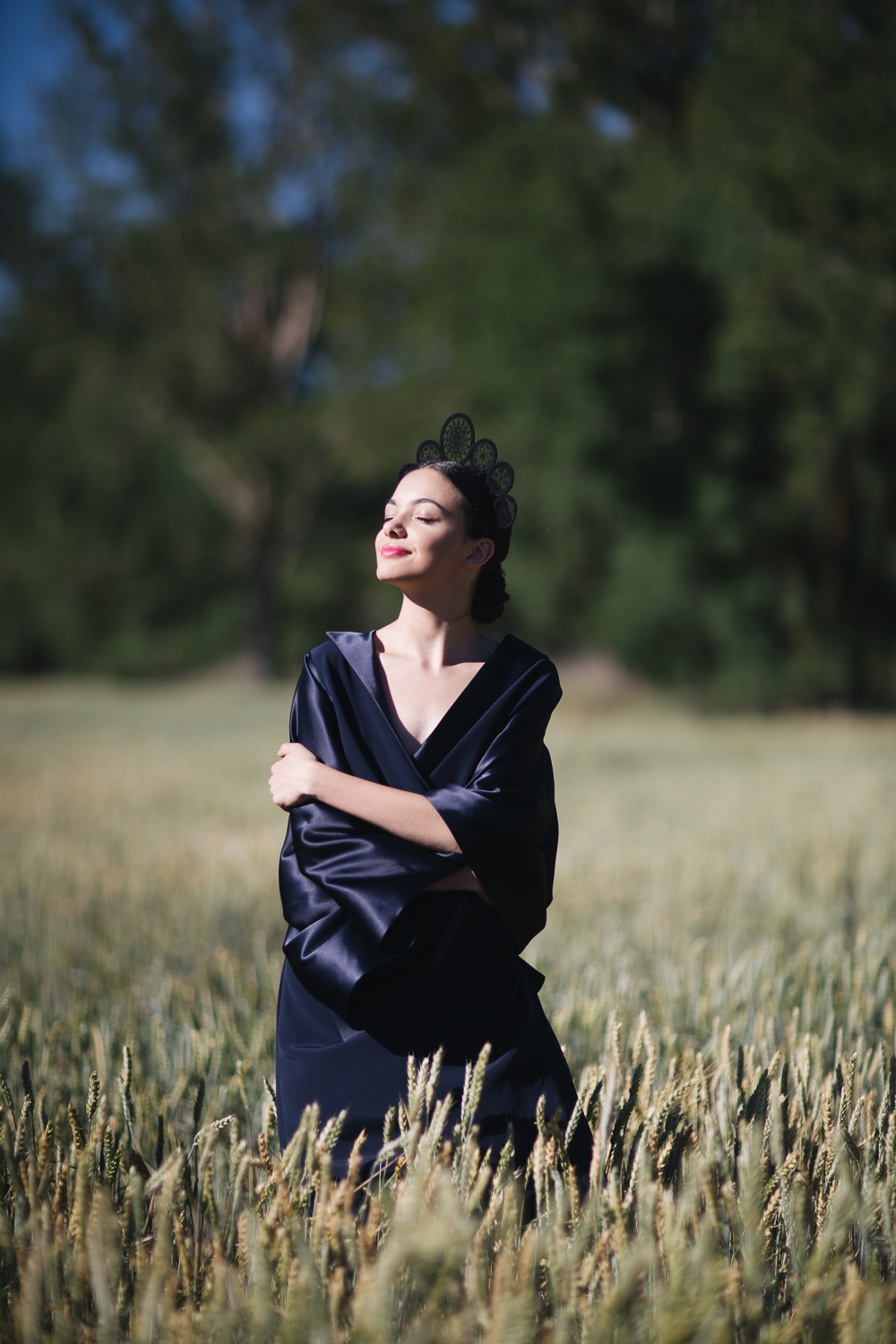 Locally produced in Seville
Susana Álvarez has a Showroom in Seville and only works with local dressmakers and weavers in the region of Seville, specifically 5 kilometers away; as she provides and guarantees 100% of the quality that she always looks for in ready-made garments.
With this firm work of both designers, we are increasingly clear that sustainability in fashion has come to stay and we joined with this report to its dissemination, we loved working with the garments and give our own interpretation and vision.
We chose a natural location, so that the fabrics would blend in with the environment, respecting the coherence of the entire publishing house.
CREDITS:
Art Direction: @elcanotiercomunicacion
Organization: @brandingparaeventos
Photography: @_bengalu
Flowers: @susiflor.invernaderos
Dress: @sa.susanaalvarezberlin
Headdress: @luciadegustin
Makeup & Hair: @oui_novias
Shoes: @customandchic
Models: Inma López & Miriam Liébana