When Sonya Vajifdar first discovered that fashion is the second most polluting industry in the world, she knew that something had to change. We need to redefining luxury through sustainability…
Sonya Vajifdar is a design label that celebrates sustainable luxury in a contemporary, fresh and edgy aesthetic. It combines indigenous elements with a global design aesthetics, resulting in garments which represent the metamorphosis of raw influences, both fantastical and mundane. Each one of our piece is crafted with a story behind it: from the unique culture of the country it's made in to the inimitable skills of the craftsmen who make it.
Their focus is to create a strong global lifestyle around our brand that remains innovative and interesting in an ever-changing retail environment through product development, inspiring launches, excellent service levels and organic fashion. The ethos of the brand lies in "Redefining Luxury through sustainability" for people all over the globe.
At just age of 21, Sonya imagined creating her own brand focused on strong, cosmopolitan and sexy women from across the world. With her own sense of style and a nose for business she managed to become a successful distributor within a year. But she wanted more; having her own brand had always been a dream and the first collection was launched.
Sonya's business has gone from strength-to-strength and expanded from ready-towear to a broader collection of couture gowns, fusion-wear etc With an eye for business opportunities and a heart for fashion, Sonya has since grown her label into a worldwide luxury lifestyle brand.
With each passing year couture's well documented obsession with organic French-girl style has only evolved. There's a certain je ne sais quoi to sustainability that we can't quite put our fingers on. Sonya Vajifdar understands and shares this fixation: the brand has launched a limited-edition, 26-piece capsule collection — including corset dresses, ball gowns, ruffled tops, shirt blouses and asymmetrical skirts. The collection is inspired by the French postimpressionist era, especially cubism, in stressing the structural elements latent in nature.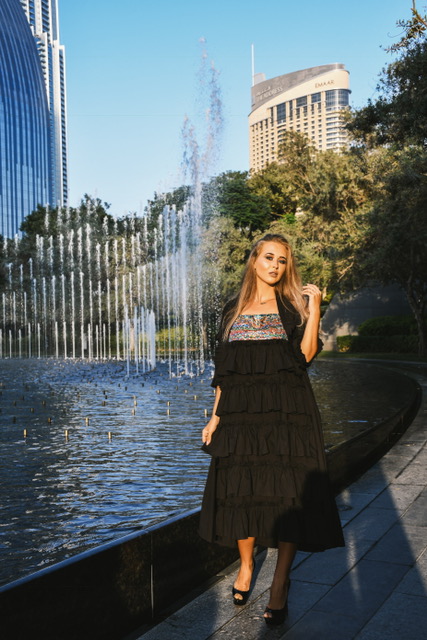 Weaving an artistic colour palette of blue, white, black, red, gold and silver into the collection, Sonya has ensure that every product emulates a principle of sustainability and eco-fashion. She has used natural dyes and recycled beads for embroidery and waste fabric for frills and flowers, using 100% organic cotton and organic jersey fabric.
An editor favorite, its perfectly tailored maxi downs, laid-back dresses, button-downs, and simple, classic silhouettes have earned "essentials" status in the closets of women from coast to coast., proving to the world that sustainable fashion is the mark of true "luxury".
Sonya Vajifdar, studied at IED, in Milano, Italy where she did a 3 year course in Fashion and Textile design and graduated with honours. She then worked with the French Company –Estrele, before returning to her hometown, Mumbai. After working for a few months in India under an established designer she branched out on her own, and launched her label -SONYA VAJIFDAR, which is now being sold internationally as well. The designer herself has been featured in Vogue, Verve, Elle and Grazia in India.
When she first discovered that fashion is the second most polluting industry in the world, she knew that something had to change. In her latest "RealRoyalty", a couture collection made with embelishments of 100% recycled plastic, soda cans and X-ray films. "Unmatched style through up-cycling" is the daunting moto at brand "Sonya Vajifdar" and eco-conscious fashion without compromising on glamour and trends is their awe-inspiring vison. A vision that has been seamlessly transformed into a capsule collection of several looks that comprises the much talked about "Realroyalty Collection"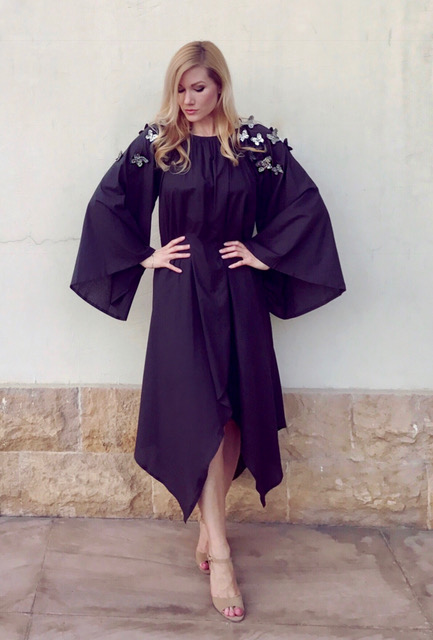 The collection is navigating an increasingly complex market shrewdly, thank to its crystal clear ultra high end positioning. Defined by a unique 3D embroidery on each piece, it is reminiscent of everything you have seen in high fashion dramatics- but only better. Creative Director Sonya Vajifdar has worked to craft her own unique iconography by using recycled plastic, coke cans and waste x-ray films to create delicate embroidery and embellishments.The fabrics used though are GOTS certified organic materials which are all natuarally dyed as well !
"We have put a lot of effort exploring the recycling of plastic, tin and metal technology to provide all types of fine fabrics, blends and embellishments that perform to the most exquisite standards. Getting rid of plastic pollution by creating consciously produced, 100% recycled and organic couture pieces is the new face of Fashion and the world is quickly responding to it" says Sonya Vajifdar.