PANGAIA Sakura Dye T-shirt is colored with a natural dye made from Japanese sakura cherry blossom petals. The fabric is made from organic cotton.  The sakura pink botanical dye t-shirt is colored with sakura petals rejected by the tea industry. Japan's cherry trees are bred to produce lotsof flowers that fall naturally in the annual cherry blossom blizzards, known as the sakura fubuki.
These are gathered, ready to be pickled and turned into a seasonal sakura tea. Only complete flowers are selected for pickling: the rest are discarded. Collected from tea manufacturers in Nagoya, the unwanted petals go to a local lab to be made into a sakura dye. It's a newtechnology that gives the blossoms new life.Just petals that have already dropped from the branches are used, and none of the trees are cut or harmed in the making process.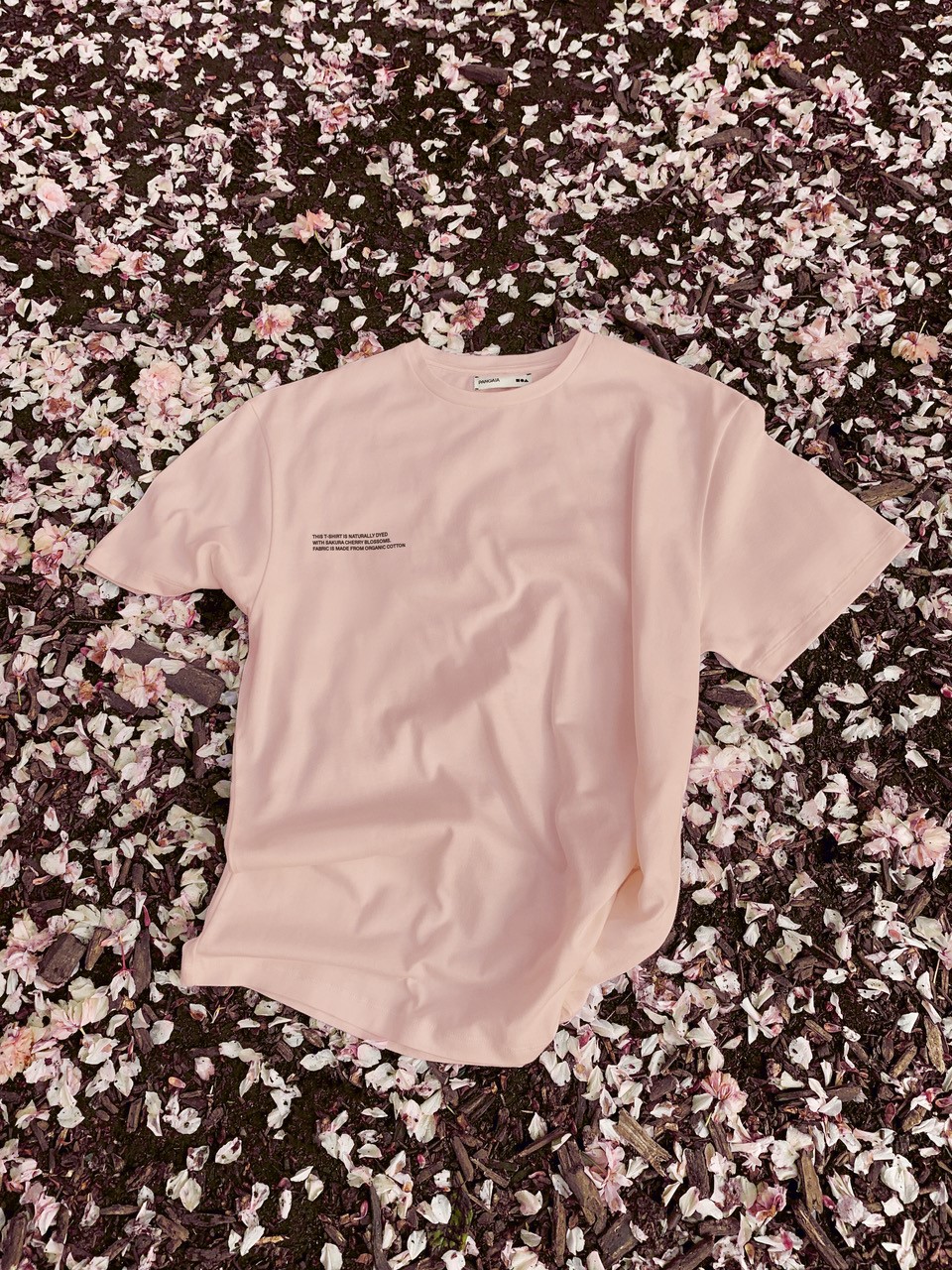 PANGAIA is a direct-to-consumer materials science label bringing breakthrough textile innovations and patents into the world through everyday lifestyle products. Every technology they work with is solving an environmental problem of the nature industry. 
They hope to drive these solutions further by making technologies and materials available to companies across different industries. "By introducing these innovations, we design materials, products and experiences for everyday and everyone"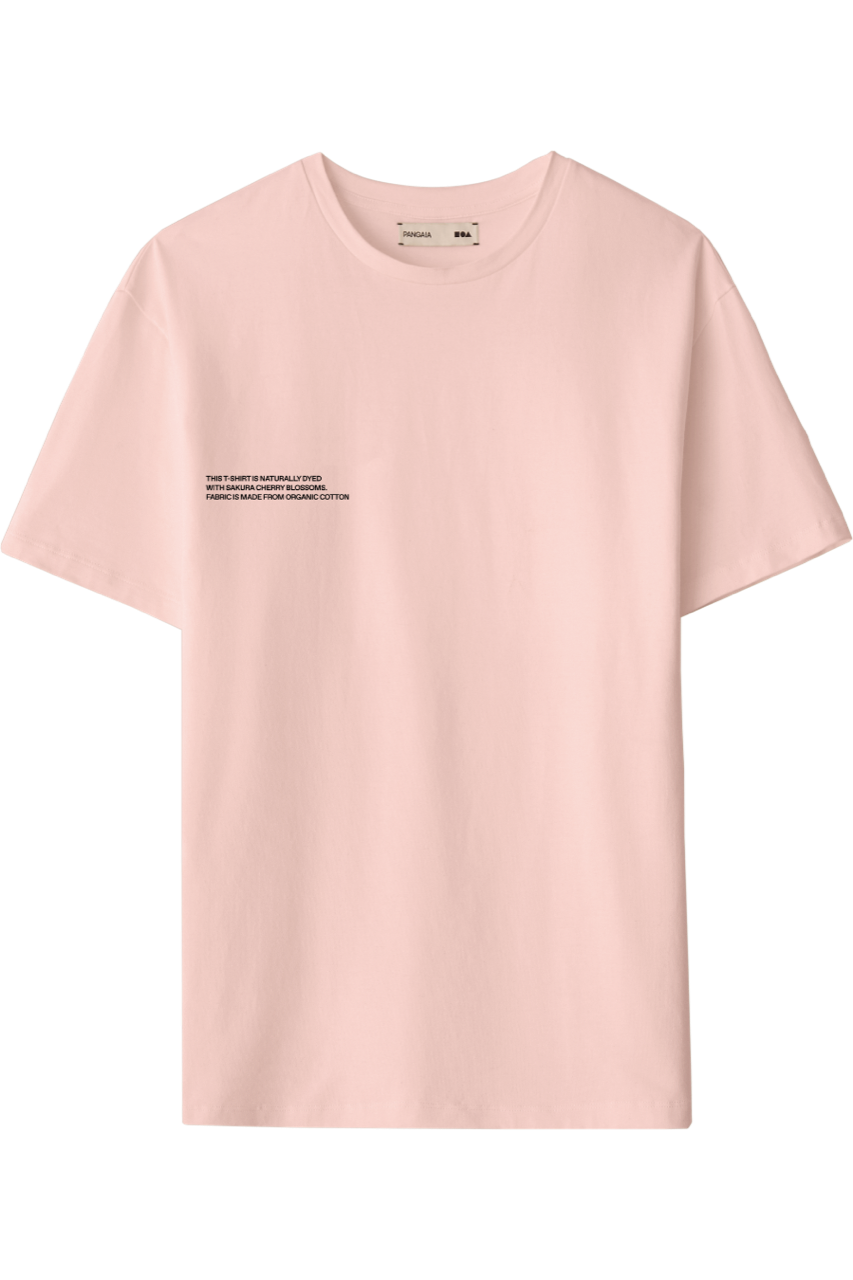 The collective's stylish but simple designs are made with cutting edge eco-technologies. T-shirts made from peppermint infused seaweed fibres; puffer jackets filled with FLWRDWN – a cruelty-free alternative to goose feather, made from wild flowers. In addition to their basics range, PANGAIA has collaborated with some of the most exciting contemporary artists from around the world. Backed by visionaries such as Pharrell Williams, PANGAIA is already making waves in the world of sustainable eco-fashion.PANGAIA has brought together top scientists, technologists, artists and designers to create a collective that aims to make this goal a reality.
Responsible
The simple but beautiful designs belie the ground-breaking new eco-technologies used in their manufacture. All PANGAIA products are vegan and are made with either recycled materials or innovative alternatives that are either plant-based or lab-grown. Nothing is made with the skins, hair or feathers of animals, including fur, leather, wool, and silk. For example, in order to fill their puffer jackets PANGAIA spent 10 years developing an organic, cruelty-free vegan alternative to goose feathers that is made from dried wildflowers. Their T-shirts are constructed with a natural seaweed fibre that is biodegradable, lightweight and more efficient in absorbing moisture when compared to cotton. PANGAIA is committed to a zero-waste circular system and has joined forces with US-based The Renewal Workshop to make sure that each PANGAIA piece lives on by either being repaired and upcycled or recycled on behalf of the consumer. The work doesn't end there – each item is delivered in TIPA packaging, which is a bio-based plastic alternative that can be placed in a compost bin and completely broken down within 24 weeks.
The collection
Using bio-based and post-consumer recycled materials, the collection is comprised of T-shirts, hoodies, and track pants; with further apparel, accessories and other product categories being released in 2020. This core collection comprises of high-performance basics that are meant to strike the perfect balance between both form and function. The simple yet stylish collection has been designed in collaboration with creatives such as the Japan-based sculptor Haroshi and the Montreal based artist Raku Inoue.
/Seaweed fiber t-shirts.
Seaweed grows abundantly in a natural ocean habitat (it's called a weed for a reason). They source the seaweed from the waters surrounding Iceland, gently and with care. It's only harvested every four years, allowing for full replenishment in between. PANGAIA combined lightweight saltwater seaweed fiber and GOTS certified organic cotton to create these relaxed fit t-shirts. They then treat them with natural peppermint oil to keep them fresher for longer, helping you to reduce water waste by up to 3000 litres over its lifetime. *compared to a regular t-shirt.
/Botanical dye t-shirts
PANGAIA experiements with using botanical dyes from plants and a low water consumption method. These use non-toxic natural dyes are made from food waste, plants, fruits and vegetables to achieve the richly toned hues. The pink t-shirt is colored with Japanese sakura cherry blossoms, the yellow is colored with flame of the forest plant, the red is colored with madder plant root.
/Recycled Cotton Hoodies & Track pants
PANGAIA created cosy thick textured hoodies & track pants using 100% Japanese recycled cotton mix of the highest quality. Combining woven organic and recycled cotton to achieve the soft hand feel and comfortable fit. The cotton used in this hoodie was either recycled or grown without the use of pesticides and chemicals, respecting the soil and saving water.
PANGAIA is at the alternative crossroads of fashion, nature, and science, committed to innovating a better tomorrow. PANGAIA stretches existing limits, categories, borders and science. This world and beyond. Combining the spirit of Generation Z and millennial fashion, with the simplicity and design ethos of technology, alongside the values of a responsible, zero-waste, sustainable brand.
@thepangaia