My Sleeping Gypsy is an experimental atelier where art and fashion merge. Where contemporary artists meet traditional artisans to create clothes that looks unique but remain easy to wear, where each dress is a canvas for their joint creative vision.
Each piece is designed, sourced and produced in Ukraine in their own production atelier. They use the most luxurious natural materials – from linen to silk. The linens are sourced locally, silks are up-cycled from second hand garments.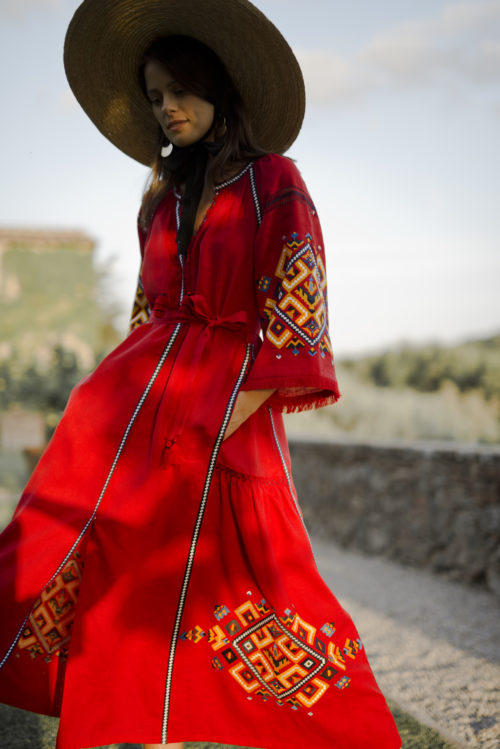 luxurious natural materials – The art of Vyshyvanka embroidery
Ancient designs – timeless cut. Vyshivanka is the modern colloquial name of the East Slavic traditional embroidered shirt. The cut of the Vyshyvanka dresses dates back hundreds of years and although other fashions have come and gone, these designs have remained timeless in their elegance and functionality. Embroidery conveys certain meanings – for example every little cross gives a mystical protection. 
Neckline embellishment is a symbol of protection of the soul.Other symbols represent the tree of life or femininity. My Sleeping Gypsy works with painters in Ukraine who discuss designs with pattern makers who then come up with sketches which are developed in appliqué and cross stitched. The aim is to keep ancient traditions and craftsmanship alive.  
"We stand on the shoulders of the great women who have lived before us and have passed on the knowledge of the handmade craft and the wisdom to preserve it. Our ancestors used clothes for spiritual protection, to convey information. With globalisation clothes became blank and mass-produced. We aim to re-establish cultural heritage in a contemporary way, reconnect people to a knowledge of the past, the slow, the perfectly imperfect and the anthropological. A woman that is connected to her roots is strong both physically and spiritually."
Sustainability
My Sleeping Gypsy control their production chain. They personally know every seamstress and craftsperson working for them. The care for the people and the environment they work in. My Sleeping Gypsy purchase materials locally which minimizes transportation/carbon output, whilst supporting small craftsmanship communities.
They use linens because they are durable and water efficient (it uses around 20 times less water than cotton for example). Linen production needs little or no pesticides in its production. As silks cannot be sourced in Ukraine My Sleeping Gypsy have committed to up-cycle second hand silk garments that can be bought in local stores. Their packaging has no plastic and their signature packaging boxes are made out of local recycled paper.
"We all wear clothes. We all share one environment. When you choose which clothes to wear you make a contribution to this environment. We believe that the world doesn't need more clothes, it needs better clothes. It's more important to us to be environmentalists than fashionistas"
Mission statement
My Sleeping Gypsy was born as a reaction to the blank, low quality, high quantity mass produced fashion that dominates the marketplace. Their mission is to make art wearable, to create garments with soul, masterpieces of impeccable craftsmanship that will stay with you a lifetime and could be passed down to your children.
Read more: www.mysleepinggypsy.com/