By: Tatjana Brill
These chocolate Bliss Balls are not only mega chocolate, they are also really fruity … just super tasty! Without sugar, without flour, without baking and done quickly! I have already tried a few Bliss-Balls / Energy-Balls variations, but they are really the best! It is not only a great snack for the little hunger in between, these chocolate bliss balls you can also offer for tea or coffee. Your guests will be thrilled!
My favorite recipe!
My husband loves these balls and that means something. He is really a tough critic. And I can not always convince him with my creations. This recipe was one of the first sugar-free recipes ever. And I still like to do that. Whenever I try other Bliss Balls / Energy Balls, I keep hearing that they still taste better here;)
Chocolate and fruity!
So try it out! Our chocolate balls are always gone! Of course you can also experiment and, for example, Take walnuts, sunflower seeds or Brazil nuts instead of almonds or pumpkin seeds. I often experiment and take what's at home right now.
Tip: It is a larger amount, because I like to freeze them in portions and get the Bliss Balls gradually out. Once you make a larger amount, definitely #mealprep is worth it
Do not you feel like forming balls or have time pressure and still do not want to miss the delicious balls? Then put the mass in a mold (best with baking paper) and press it smooth. For min. Put in the fridge for 4 hours. Then you can cut them into bars.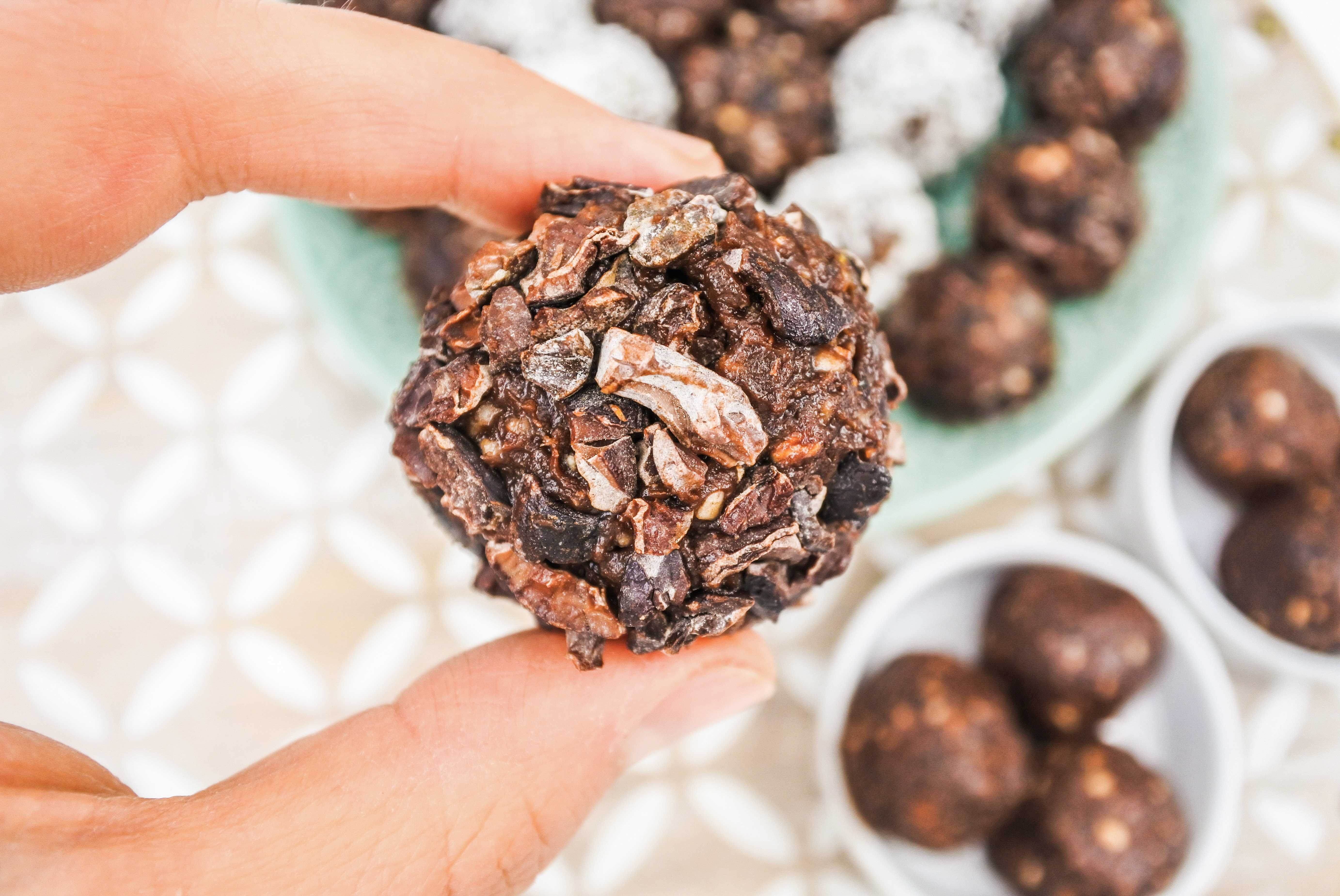 Now for the recipe:
200 grams of dates
100 grams of mulberries
50 grams of cashews
100 almonds
100 grams of strawberries (I've been taking frozen)
3 tablespoons of raw cocoa
a pinch of salt
Decoration: Coconut flakes and cocoa nibs
There is also a video on the recipe today;) Please watch it and let me know how you liked it!
Preparation
All ingredients come in a high-performance blender and puree until a sticky consistency is obtained.
To form small balls, the easiest way is with a teaspoon *.
Roll through coconut flakes and cocoa nibs.
Finished!
Store in the fridge.
* Tip: It's best to put an extra bowl of water in front of you to moisten your hands when you make them again and again. Then the dough does not stick so much to the hands
Greetings Tatjana
Blog: https://tatjanas-blog.com/
Instagram: https://www.instagram.com/tatjanas__blog/
You Tube: https://www.youtube.com/channel/UCPy-SWKZu6tE3Ws3n7hHBqw?view_as=subscriber
Mail: tatjana-stolba@web.de