Do you really need a new bag? Or do you have a loved bag that needs to be fixed? This brand has the answer.
More and more people are becoming aware of the huge amount of waste generated by the fashion industry. A slow fashion global movement aims to break the wasteful cycle of throwaway clothes and accessories by encouraging people to only buy what they need, instead of constantly throwing things away. One luxury brand, OWNEVER, has joined this drive by offering to repair both its own bags, and bags from any other brand.
Fast fashion is the phenomenon that spins the idea that repeating an outfit is a no-no and if you want to stay fashion-relevant you must wear the latest look that celebrity culture and trendy influencers promote as something you can't live without. It's done to makes us believe we need to shop more, to stay on top of trends, creating a constant sense of need and ultimate dissatisfaction.
OWNEVER manufactures luxury leather bags with the slogan: "slow down, make better and be fair."
From a sustainable perspective: if you already have one, why buy a new one?
More valuable than creating a new luxury brand, is to be able to do more for the planet. It's not just about creating better products with more eco-friendly materials, it's about the next step: brands that don't encourage consumption. Promoting a circular economy is a great way to do exactly that, making this a core business philosophy. Brands need to be responsible for what they create, but if they could go even further and become responsible for what other brands create? OWNEVER is set to do that, accepting bags from other brands and fixing them.
Being sustainable is more than just creating something that uses less harmful products for the environment, it's about encouraging society to make the most of what it already has. This is the only way to true sustainability: you already have enough. OWNEVER is one of those brands that was born under this philosophy.
And yes, in fact you can buy a beautiful new bag from this brand, but only if you really need it, not just because it's a trend, the brand declares. Because OWNEVER offers great timeless designer bio leather bags, inspired by classic French design. But what if you already own a good bag that just needs to be fixed?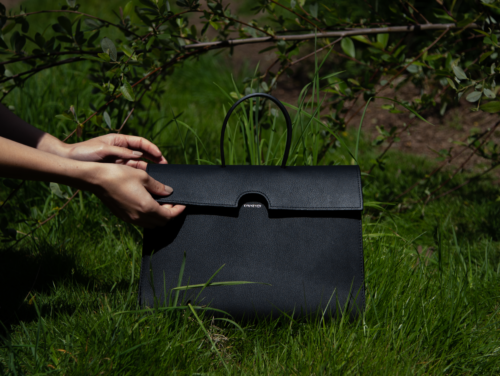 How it all began
One day, Eliana Barros, the brand founder and product designer, realized that she was happier living with less. But an old dream about creating a timeless brand of bags that are still desired after a few months of use, didn't leave her mind. Her mission was fierce: to make a difference in rampant consumerism and in no way contribute to the fast fashion industry while creating a new brand. "We are at a turning point in history that will mark future generations. We must have the ability to choose better – and less is truly more", fueled Eliana Barros. As a result, in 2019 she left her day job and started the OWNEVER brand: a timeless chic, ethical and exclusive bag line. OWNEVER wnever was born.
At this point the brand couldn't just be another one. If the bags are designed to be timeless and worn forever, you can't just use the best materials and enduring design, you need to offer the repair service. The brand took one step forward and offers repair services for any of its products. This gesture makes it visible that, in order to do more, you need to promote the integration of the consumer into the lifecycle of a product. The brand actually shares with its customers the responsibility they need to undertake after buying one of its bags: if you decided to buy an OWNEVER bag you are responsible for taking care of it, for repairing it and for making it last a long time, this is your mission.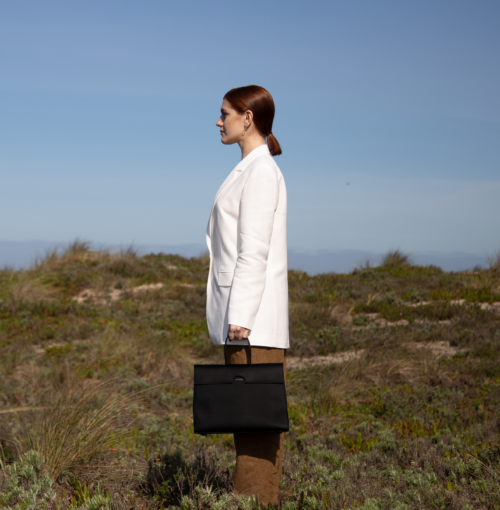 So you need a new bag? Are you sure you don't need to fix one?
Under this philosophy, OWNEVER added a new service to its portfolio: it will actually repair not just the brand's own bags, but also bags and accessories from any other brand you own. Because you don't need more, you need enough, so if you already own a great bag, why not make the most of it?
Eliana Barros worked with local artisans to create OWNEVER bags, but also to create a repair system for them. She states "Please don't buy a new bag if I can repair your loved one. Please don't buy any of my bags, repair yours and if you really need it, then I would be more than thrilled to create a new one for you."
The brand works closely with the local community, providing work to skilled artisans while contributing to a circular economy. After all, ethical means taking care of everything and everyone.
It doesn't matter the brand, you can send a Hermes, Balenciaga, Dior, Louis Vuitton, or any other brand bag or leather accessories, no matter the condition, you will get a quote and a luxury repair service for sure. You can change the color, fix the handles, remove any mold, take care of worn corners, leather stains… you name it! No matter the brand, no matter the designer.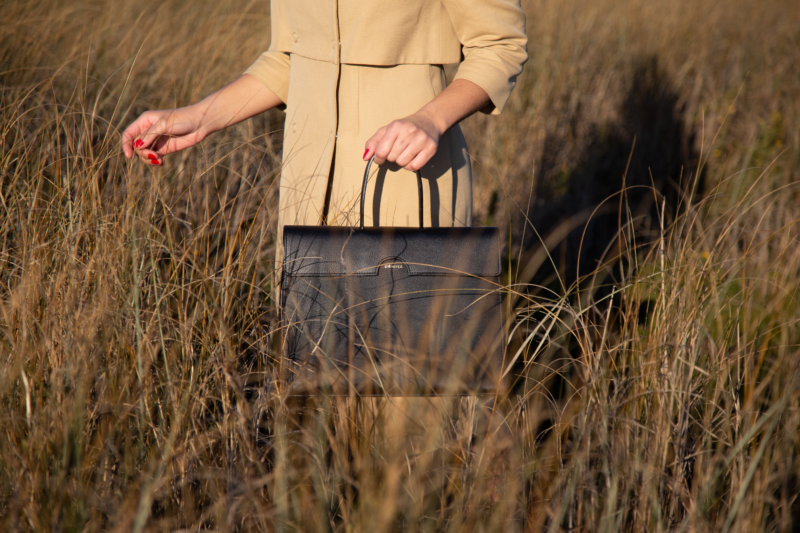 So, do you really need a great timeless bag? If so, this is the right brand to get it from. But if you're not sure, and have a great bag that needs to be repaired so that you can use it again? This is the right place to take care of it.