We all know how hard it is to find a bag to wear from early gym sessions to professional meetings, from the office to after work gatherings. Or just to pack the essentials for a weekend trip. And then – if you also want it to be sustainable, well – is it possible? This vision was the seed that grow and brought Sandra and Anna to start their brand. ACE is the result of thier friendship and shared passions for good design, nature, sport, adventures and a real concern for our environment.
Where did the idea for ACE come from? Where do you find your inspiration?
We both came to Madrid from Brussels and Stockholm for different reasons (studies, work, love, the sun…) and as so many others, never left this wonderful city. Our paths crossed one day at a dancing class. We discovered that we were at the same place in life; we wanted to create something of our own – something useful and with purpose.
Then we decided to combine our backgrounds within fashion product development and marketing to fulfill a real need we identified in the market: a cool, sporty, versatile bag with a glamorous touch you can use all day. Spacious enough to bring to early gym sessions, elegant and functional to carry to the office, lightweight for travels… The ACE bag was born! But since fashion production and consumption have terrible environmental consequences, we decided that sustainable fashion was the only way to set the basis of our brand, with a conscience to inspire, engage and commit.
So, we went to Milan to source the best sustainable materials and discovered ECONYL®. The Italian regenerated nylon recycled from waste such as abandoned fishing nets and other landfills waste. It´s premium fiber also used by Stella McCartney Prada, Gucci or Napapijri among others. We decided to use this innovative textile and partner with their amazing Foundation. Healthy Seas. To write the first chapter of our story…
What does ACE stands for
Our brand name – ACE – stands for Active Chic Eco, the lifestyles we believe in and wish to promote through our brand. Those values reflect our heritage since we grew up in Sweden and Belgium where sustainable behaviors, living close to nature and sports are part of the national pride.
Our sources of inspiration come from the active, beautiful and smart women we have around us every day! We create our bags to fit all the women out there with demanding lifestyles but without compromising our environment!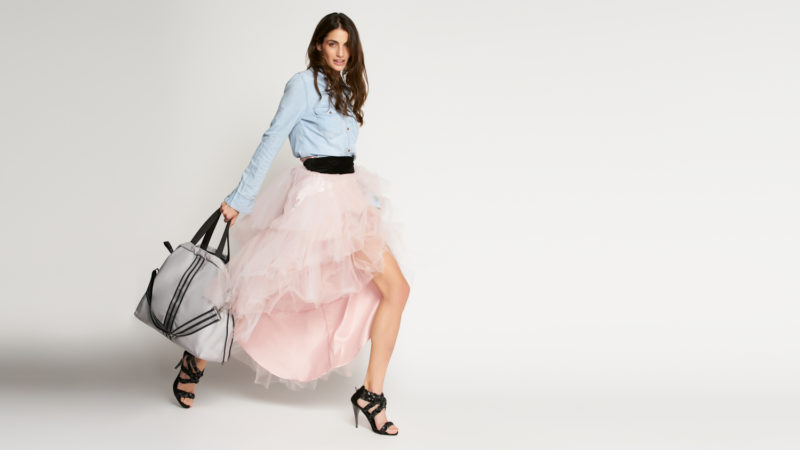 What does sustainability mean to you? Can you describe your passion about sustainability?
For us sustainability means creating something beautiful and useful without harming the environment. More precisely in our case, it is turning a problem into a solution by transforming plastic waste into Sustainable, Fashionable and Functional products!
It is about switching the way we produce, consume and dispose. It is going from a linear economy of "take, make, waste" towards a circular one by:
● designing new products without harming our planet, using minimum natural new resources, producing minimum waste and facilitating the reuse,
● taking responsibility for the products we put out there making sure that they do not create more waste and end up in landfills. This is why we use not only recycled but also recyclable materials in order to close the loop of the product life cycle. We are proud to be a Circular Fashion brand!
● giving back to the planet by allocating 1% of our sales to our partner the Healthy Seas Foundation,
● offering meaningful sustainable options to the consumer. Inspiring and empowering them to make a difference by buying less, choosing well and making it last! (quote from Vivienne Westwood).
What do you think has to be changed in order to make the fashion industry more sustainable?
One of the biggest challenges we are facing as a sustainable brand is the misconception about ethical/eco-friendly fashion. It doesn't look cool, glamorous, nor stylish, we want to change that and make it fun, fresh, modern and desirable!
Another difficulty is to fulfill the highest standards of production and processes to ensure transparency, traceability and affordability that more and more consumers are requiring. Suppliers of sustainable fabrics and components are hard to find and much more expensive. Product development is also more complex and longer. The "throwaway" consumer culture created the need for speed, overconsumption, and cheapness; and unfortunately, sustainability often comes with a higher retail price that consumers aren't always ready to pay yet.
Ensure circularity is also quite complex because of the technological investments and processes needed to recapture the value of the natural resources used for the production. For instance, you have to control and track every step of the supply chain to safeguard the possible "regenerability" of the ECONYL® fiber we use as main material.
And another challenge would be the lack of availability and visibility of sustainability shopping. There aren't enough brick and mortar nor online stores seriously commercializing innovative sustainable brands. The mainstream online platforms aren't offering sustainable filters. And even if some of them are progressively adapting to it like Net à Porter with "Net Sustain". Fortunately some ethical e-commerce are emerging with rigorous application criteria like Cerqular, Eco fashion labels or Urbankissed.
We need more collaboration within the industry, more knowledge to share, more research and more affordable technological innovations. Governments and legislation also have a huge role to play through tax breaks incentives or subsidies for instance and the Fashion media have to step up more! Much more…
Could you describe ACE in three words:
This is easy: Active, Chic & Eco!
Read more: The ACE Bag