Mima is an independent artist from New Zealand currently located and working on sustainable handmade clothes in Japan. Supporting the sustainable fashion movement, She focus on upcycling deadstock fabrics for all her garments. Materials are sourced in Nagano where she collect surplus fabrics from other, larger producers in the fashion industry left unused or discarded. This is her story of her brand MONO Handmade:
Growing up in the countryside of New Zealand, I was ingrained with a deep respect for my natural surroundings from early on. I've always been conscious about sustainability but I was never aware of the detrimental impacts that the fashion industry had on both the planet and people.
This changed when I discovered the amount of fabric discarded – all of which were in perfect condition, just sitting there collecting dust. It was then I started to immerse myself in research papers detailing the impact of the fashion industry, only to be more shocked by the data and stats.
Creativity has always been a part of me and it took some searching to find my outlet. Thanks to my mum who has impeccable skills on making clothes, her love for sewing must have rubbed off on me. Consequently, the choice was simple for me to take sustainability into my own hands; and to create pieces with an eco-conscious approach.
And so, MONO Handmade was born.  MONO Handmade has a simple philosophy:
"To design and make beautiful, timeless fashion while caring for our environment."
Materials
At MONO Handmade, we strive to deliver ethical collections using only deadstock fabrics and offcuts that would otherwise be destined for landfill. I work around imperfections to transform discarded and excess fabric to bring new life in small run pieces.
Though there are thousands of yards of deadstock in general, there are limited quantities of each kind. This is why I making each MONO piece a few of a kind. This exclusivity not only makes each piece unique and precious. It also helping to swerve the problem of new materials being produced – and wasted. 
Handmade-To-Order
The norm in fashion is to manufacture as much as you can all at once to reduce costs. All MONO garments are responsibly handmade to order, a sustainable production method to combat this fast fashion process. This slower approach to design means that waste is drastically reduced. And the products are consciously created only when they are wanted.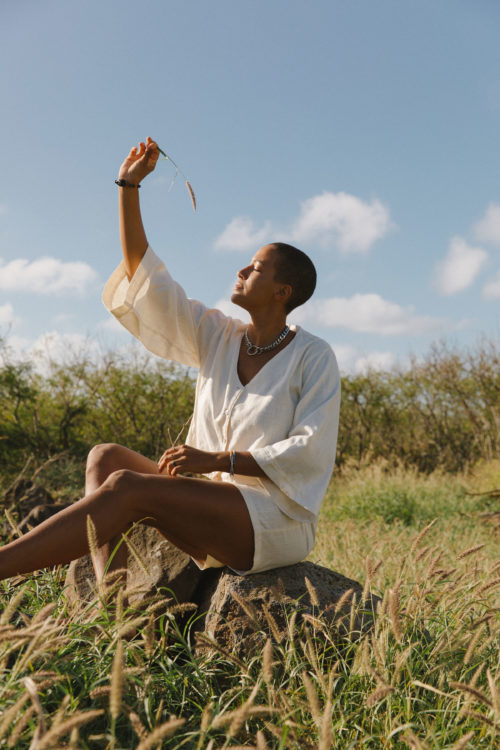 Our Mission
I knew I wanted to structure MONO Handmade differently. I wanted to start from scratch. That meant that sustainability could be at the heart of every decision I made.  Our mission? 
To source sustainable fabrics from renewable resources and with the lowest environmental impact.
To handpick materials based on their quality to undertake a slow fashion approach
Join us on this Sustainable journey
Fashion is an incredible form of art and self-expression, and the power of change is in our hands. We can design new ways of producing and consuming fashion that excites and inspire without causing irreversible damage to people and the environment.  I hope you will feel as passionately about supporting sustainable fashion as I do. And that you will join me in leading the way for change.