Savara means glowing from within. We support this natural glow by creating sustainable lingerie. We focus on the feeling of women wearing lingerie.
'Our designs are not finished until we see an instant smile on the face of the women wearing it'. 
Therefore, for every piece that is created, we have the women wearing it in mind. We design with a clean conscious and that means no compromises on fit, quality, our people and the earth. We work with authentic women who decided to follow their own course of life. With their stories, they share why and how they to this. Talking to them is a true inspiration and this great energy is what we bring into our designs. Sustainability and a clean conscious is vital for us.
'We are creating a bra-revolution to save the planet'.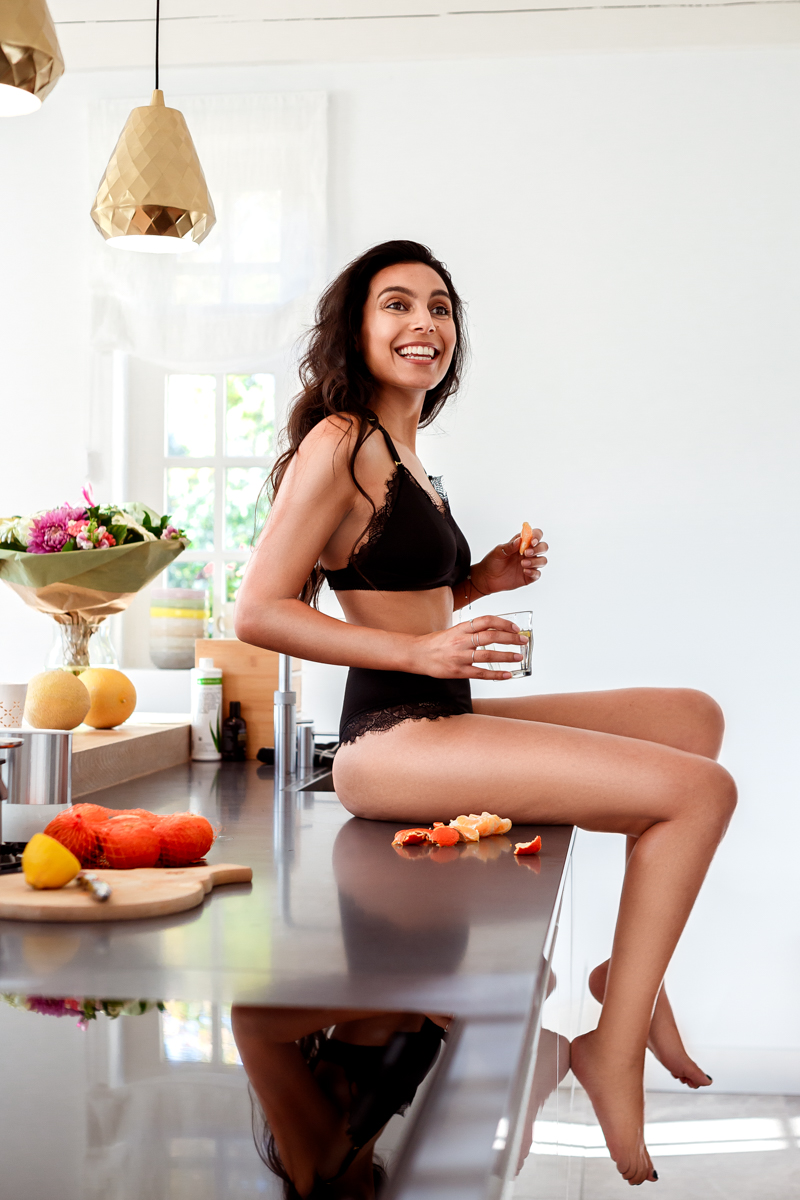 We focus on the use of the right fabric, combined with a design that limits overconsumption in the lingerie market. 
Sustainable Fabric
Savara Intimates source innovative, environment friendly fabrics. TENCEL™ fabric is made out of renewable raw material; wood pulps. Eco Soft technology is used in order to make the fabric exceptionally soft while having a shine. The fabric is made without harmful substances and is therefore certified with STANDARD 100 by OEKO-TEX®. It also has the EU Ecolabel due to its significant lower environmental impact throughout the entire lifecycle. The trees used for the fabric are coming from sustainable plantations. We source fabric in the specific amount of meters that we need, so we create minimal leftovers.
We combine this with fabric surplus (lace). These are surplus from other factories because they often need to buy fabric in huge amounts (per 1000+ meter) and finish not all of it, or miscalculations are made. By estimation, 40% of the world fabric production is wasted before it turns into garment. We use surplus fabric in order to minimize this waste, besides the fact that these fabrics are often gorgeous!
Unique Design
Our designs are in-house created with care in The Netherlands. The design of our lingerie is versatile. Strap options give the opportunity to create complete different looks. It can be combined with different clothing types and it can be used in different occasions. Most importantly, with our sizing system, multiple traditional cup sizes come together in one size. Having some fluctuations in size due to hormons or weight lost/gain will be all fine. No need to buy a new bra over and over again, because the fabric will embrace your size. In this way you can enjoy your items more often and better, so we can prevent overconsumption together.