Veganuary in New York City. 2020 was an unpredictable year that ended just as inconspicuously as it began. Time went by so slowly, but the years end still came all too soon. Coming into 2021, I spent some time reflecting on what my goals were entering into another year of quarantine and came to a realization. Nothing is permanent.
Author: Heena Shah
Jobs, situations, relationships – as things change and evolve in their own time the only thing that can be controlled is myself. For this reason I felt ready to recommit to my health. Whatever your personal politics and preferences are, there is little legitimate scientific evidence refuting the fact that a plant-based, whole food diet is the healthiest for our bodies. I was ready to fall back in love with my body and to fall back in love with food.
Day 1
The day after New Year's, we packed up our bags and the dog and headed to NYC. 8 hours of driving left us exhausted. Finaly after settling in to our AirBnB we crashed and waited for the second full day of the new year.
Morning
To keep us from spending too much money on food, we had the foresight to bring some fruit and snacks along with us. This way our morning routine did not have to depend on external sources of food. And to be totally honest, it was an excuse to sleep in. After walking the dog, we grabbed a smoothie at Weekends. This place would become our favorite smoothie place, and headed into the city.
Brunch
By the time we grabbed our bearings it was about brunch time. we stopped at Simple Café for grapefruit and guava mimosas. We did not bother with food, but they had an assortment of vegan and paleo options. Fast forward – a few hours of trekking through the city and breathing in the more-than-normal city air, and we needed a food break. We had only one rule: only order food we could not make ourselves.
So, we stopped at a small middle-eastern restaurant on Sixth Avenue. Kubeh was easily the only place on Sixth Avenue we could afford to splurge on. We filled up on mixed olives, muhramma (a dip made from roasted red pepper, walnuts, pomegranates), and fresh baked pita (probably not vegan but FRESH and BUTTERY).
Another fifteen-minute trek and a stop in a small bookstore later we finally made it to our destination: JaJaJa. This Mexican-owned restaurant is notorious for their vegan take on authentic cuisine, not to mention their art-deco style of decorating. In proper covid fashion they had heated seating outdoors. We sat and ordered a smoky tasting Oaxacan Old Fashioned and perused their menu.
For appetizers we ordered the split pea Sopa Del Dia with a house made spicy sauce in the shape of a star. It was small but packed of fresh flavors of potatoes and cilantro to give it it's hearty property and fragrant taste. No extra spices needed. Accompanies with their single Beet and Pumpkin Empanada, which was easily enough for two- we were already full. They definitely fried their empanadas in the same frier as their churros, which gave the exterior an excellent sweet-fried taste that complemented the candied beets perfectly.
Dinner
After a second round of drinks and a full day of walking we got cocky. We ordered three different types of tacos:
Chrizo- with a turmeric tortilla, radishes crunch, micro-cilantro pieces, red pepper and sour cream (vegan of course) which was nothing short of the fresh vegetable taste we were used to with vegan food
Crispy Chayote Fish Tacos- hemp and flaxseed battered squash, chipotle almond butter and red onion, picked onion and chocolatey taste. This was one we were incredibly surprised with. Both of us grew up vegetarian and were wary about anything with a 'fishy' or 'meaty' taste, but the flavors were absolutely sublime and did not overwhelm our palette. This was exactly the texture we were looking for, nothing slimy and incredibly crunchy.
Spicy Birria- banana blossoms, avocado, salsa botanera and cilantro all the flavors, for anyone familiar with Indian cuisine, these tasted almost exactly like rajma. Excellent use of spices and creaminess made these tacos like a palette cleanse between the other two taco selections.
Despite eating the afternoon away and feeling absolutely full, we decided that we'd absolutely need to have a second dinner. We walked to the next place (thankfully) proved enough to give the illusion that we were still hungry.
Night
Cold was starting to become unbearable just as we pulled up to Hangawi Restaurant. The restaurant had a gorgeous side view to the Empire State Building. Starting off with drinks, we ordered the Mango meditation and Kamasutra martini. The perfect lubricant to end the perfect day of endless food commas. Although it took some time for our waiter to get to us, given the restaurant was going to close within an hour we ordered quick and full:
Spicy baby dumplings- mushrooms, tofu vermicelli and a *special* spicy sauce. Which easily became my most favorite food order on this food-cation.
Steamed kimchi dumplings roasted red pepper sauce. I've never even thought to put kimchi in dumplings before, and the contrast of flavors was absolutely mind blowing.
We got back to the AirBnB a little tipsy, so we snuggled up with our pup and ordered from Vinnie's pizza to close the night. Their colorful vegan "chicken" pizza soaked up at the soju martini's we had at dinner, and set us up perfectly for a goodnight's sleep.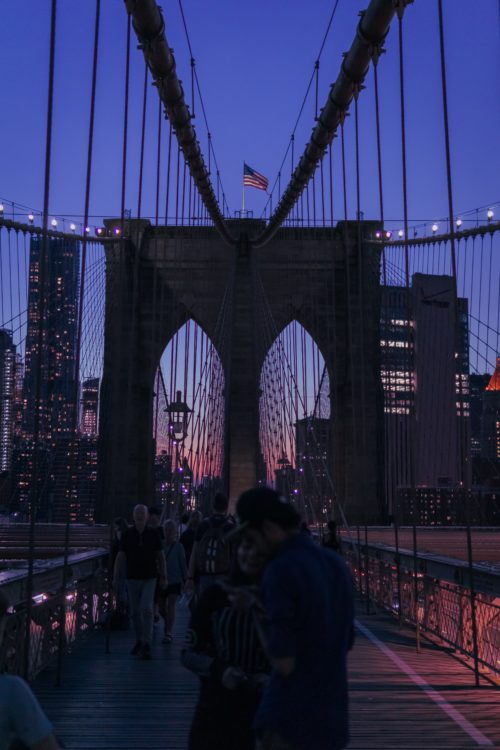 Day 2
While we ordered another round of smoothies from Weekend's- I also really needed a coffee pick me up. So while window shopping in Williamsburg, we happened across Blue Bottle Coffee. I ordered a much needed oat milk Cortada in a reusable bamboo coffee cup I picked up while at the cash register.
Then we felt like German food, so we washed down a veggie burger with a lager from Radegast Hall and Biergarten. I ate one too many fries, which was a good reminder that not all vegan food is healthy.
Lunch
After we got ready, we took a cab to Spicy Moon Vegan Restaurant in the West Village. They adjusted to the cold rain and COVID vibes with covered, private, and HEATED outdoor seating was blessed with a pink light that covered everything. It was like a built-in filter. Then our order:
Beyond beef dumplings. While the flavors were true to the beyond meat, we've all already had, I almost wanted to add ketchup and ask if the chef had any burger buns in the kitchen.
General Tso's- mushroom subbed for chicken, these little poppers were blessed with pieces of ginger that made our stomachs dance.
Spicy Eggplant Bun and Spicy Tofu Bun. These steamed buns were absolutely delicious and had very delicate flavors that complemented eachother perfectly. These meat-alternate flavors to cultural cuisine were both filling and surprisingly light. We did not feel lethargic
Dinner
We ended with dinner at Eataly's Birreria near Rockefeller Center. Hidden on top of a fresh food market, this unique restaurant kept its menus on recycled paper and we indulged in their small selection of vegan apps. We are also indulged in their locally sourced Prickly Pear Mead- which we found out was basically the moonshine of wine. We then ended the night with over-priced falafel in Time Square before heading home for our last night.
Lessons we learned:
Vegan and clean eating are not always synonymous. You have to be conscious about how the food itself is prepared
Nothing is worth going broke over. Not a vacation or food, be smart about where you spend your money – even for vegan cuisine
Only order one round of drinks before the food comes, wait for the second until after your appetizers
This pandemic has affected people and businesses in ways you can really only feel, not describe. The city did not have its signature speedy edge that humbles the ambitions and gives dreamers a hustle
Always bring an extra mask
You may not need to plan food or lodging ahead, but you absolutely need to plan parking
Try to find a place outside the city for an AirBnB. A gentrified neighborhood is likely to have cheaper prices on shorter notice