Sustainable Swimwear
EcoMogul Magazine are proud to present the ultimate list of the worlds best sustainable swimwear and swimsuits brands. Our goal is that it should be more easy to choose and more easy to buy a sustainable and eco-friendly swimsuit insted of a non sustainable swimwear.
What is sustainable swimwear?
Sustainable swimwear are swimwear, bikinis, shorts or swimsuits made from regenerated fibres or organic fibres. The fibres are mainly recycled ocean plastic or abandoned fishing nets.
By choosing sustainable swimwear or swim suits you are kind to the whole environment, the oceans, the land and the air.
Before every season we have a competition where you can vote for your favorite brand. The winners of the best swimwear brand will be presented and acknowledged.
Missing a swimwear brand?
Are you an owner or marketer of a sustainable swimwear brand or do you miss a swimwear brand you know about?
Please send us a notice:
info@ecomogulmagazine.com
---
Bellini Bikini
Bellini Bikini is a luxury swimwear brand that offers sustainable swimwear while remaining chic and sexy.
Founded by Zahné Theron in British Columbia, this Canadian brand focuses on empowering women through flattering pieces and promoting sustainability through swimwear. Our pieces are timeless staples that fit into every collection. Each bikini is made from regenerated waste products so you can feel good about your purchase.
New collection just launched!
The SS21 collection is called "Summer Sunsets" and it includes three returning styles, two new styles, and three new colours! Check it out>>

Follow & Shop:
---
SevenC´s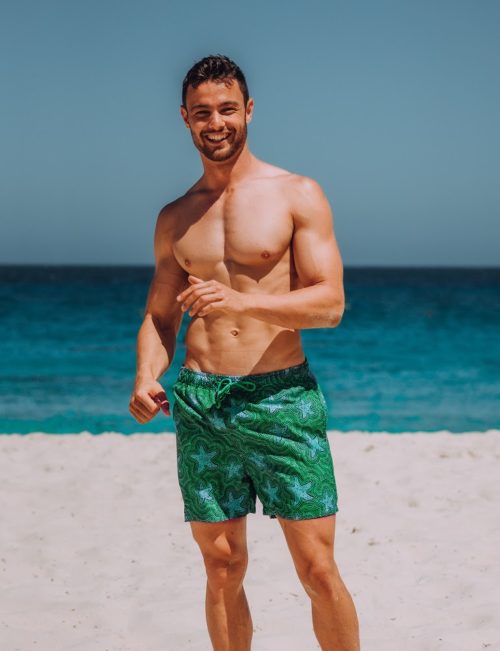 SevenC's is an Australian men's clothing brand. From the moment you touch a SevenC's product, you know it is like no other. Our swim trunks are soft, quick-drying and profoundly comfortable all-awhile being manufactured from recycled plastic bottles. We are on a mission to offer high-quality, sustainable men's clothing. We encourage our customers to exchange their beloved SevenC's products for a discount on a new SevenC's product via the SevenC's Boomerang Program. The creation of the program empowers SevenC's as Australias first sustainable independent circular brand. Think sustainable, think SevenC's.

Follow and Shop:
@sevencs
Shop
---
Virago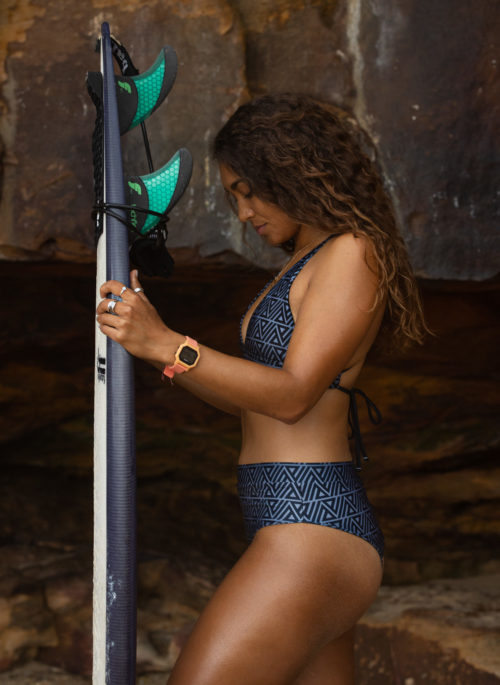 Founded in 2019, VIRAGO ACTIVE. is an Australian sustainable high-performance swimwear brand for women.On a Mission to Elevate Fierce Women Through Ocean Sports. All items are hardware-free and made from ECONYL regenerated nylon, making VIRAGO's designs truly durable. The brand further gives back 2% to Healthy Seas and uses compostable packaging only.
Follow and Shop:
@virago_active
Shop
---
Makara Swimwear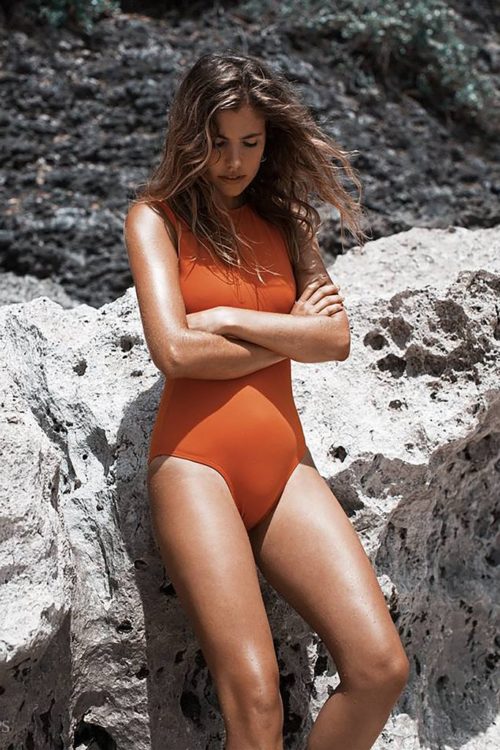 Makara wear is a European sustainable swimsuit and apparel brand geared towards independent and adventurous women who value fashion, comfort and elegance. Makara wear's designers have worked very hard to create a product that is simple, yet sophisticated – with modern women and their needs in mind.
Makara's SWIM-WEAR LINE has been internationally recognized by active ladies that are into water sports. Our suits are made using top Recycled Nylon Lycra ECONYL® . Recycled ECONYL – made from regenerated ocean plastic material and harvested from discarded fishing nets material and have been tested in various waters and weather conditions. Makara wear suits hug a body like a glove, giving an opportunity to be active in style and perform at your peak, eliminating all the worries of the suit not fitting properly.

Follow and Shop:
@Makarawear
Shop
---
Awai Swim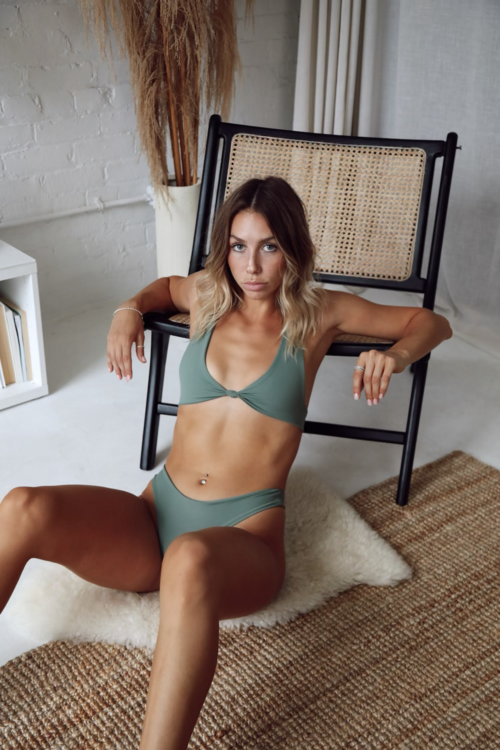 "From day one, being sustainable and eco- friendly has been a vital part of Awai Swim.​ By combining our conscious efforts of using biodegradable shipping bags, recycled fabric and minimizing our overall waste, we are ensuring a reduced carbon footprint."
​Follow and Shop:
@awaiswim
Shop
---
Vivida Lifestyle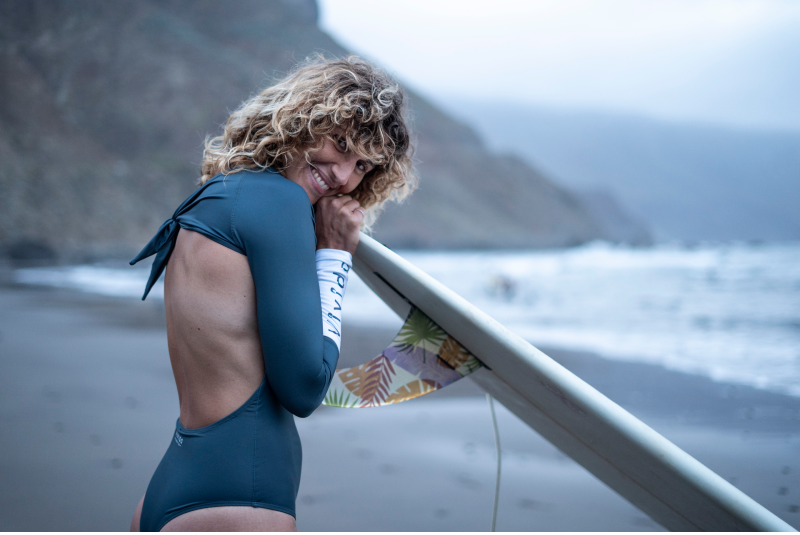 Vivida Lifestyle exists to inspire & empower one another to live life to the fullest. Initially created as a purely passion-driven project, and serving as a reminder and daily inspiration to live life to the fullest, Vivida has evolved into a movement that touches nearly every corner of the world. Their sustainable sportswear & gear is built to enhance every adventure, with travel-friendly, eco-conscious & built-for-you quality and appeal. Their earth-friendly styles include swimwear made of post-consumer plastic bottles, as well as innovative and high performing neoprene, created from scrap rubber tyres, recycled plastic bottle lining, and solvent free glue. Their research and product development is constantly focused on improving sustainability and lowering their carbon footprint, while never compromising on quality.
While their products continue to evolve, community & connection always remains at the forefront, as Vivida stays committed to the adventurers, the dreamers, the thinkers, and the doers.

Follow and Shop:
@vivida_lifestyle
Shop

---
RIVI Swimwear
RIVI means good times, no matter where you choose to relax or explore.
We are a small, woman-owned business committed to creating thoughtful and sustainable swimwear. Our processes remove the fast from fashion and feature quality suits that will last.
We pour our energy into unique launches of different swimsuit types and eliminating excessive waste from the process. The luxe fabric we use lets the suit contour to your body so it fits like a glove. It's not too thin and not too thick, just right for the comfort to last day and night.
Follow & Shop:
@riviswimwear
Shop
---
Small Field Swim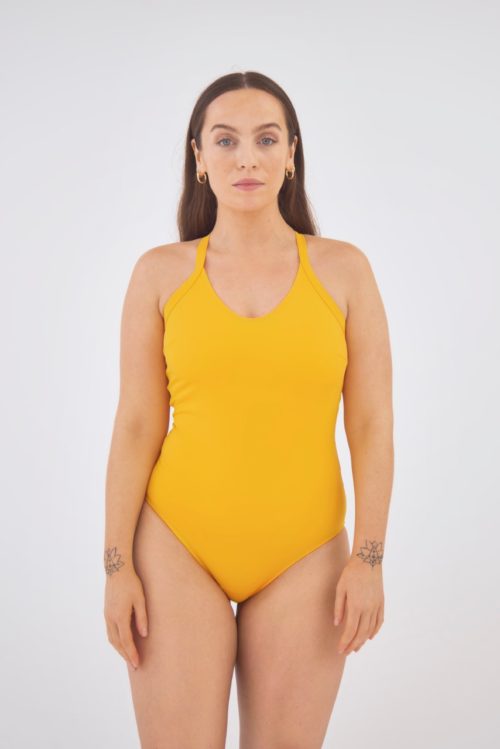 SMALL FIELD SWIM is a London based brand set out to offer an expanded range of swimwear products for women, with a bra sizes ranging from C to F cup. The collection features functional & supportive minimal design swimwear. SMALL FIELD SWIM stands for empowering and flattering shapes, with a modest and modern body coverage.
The colours chosen are inspired by the late summer sun, but designed to work all year round – for active lane swimming, wild swimming adventures, as well as summer days by the lake or the sea. The collection has been produced in Northern Italy, with minimal transport routes in mind. The core fabric, made from ECONYL® yarn, is knitted less than 100km from the garment manufacturer. The new SMALL FIELD SWIM collection has just launched and is available online and in selected stores with a focus on slow and ethically produced clothing and lifestyle products in the UK and Austria.

Follow and Shop:
@small_field_swim
Shop
---
ESSENTIALS FOR ZULA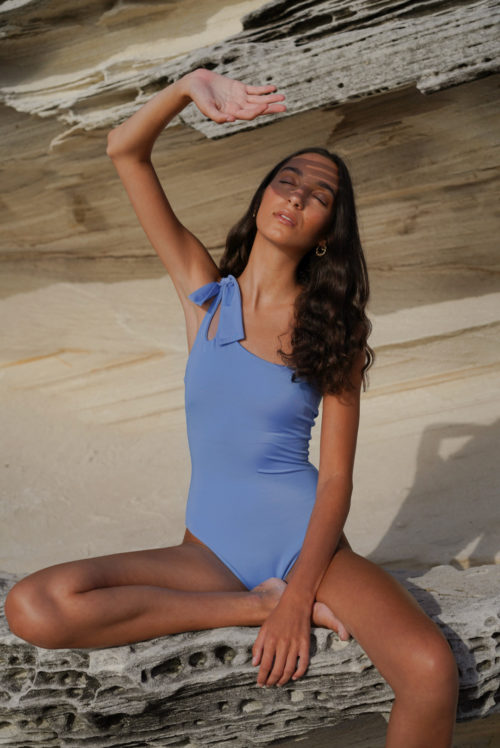 We are a father-daughter duo creating ethical, handmade and sustainable swimwear, underwear and basics. At essentials for zula, our goal is to make beautiful, timeless and figure-flattering designs in a conscious way that doesn't cost the people and the planet. The swimsuits are crafted in small and limited quantities in our own family-run factory and cut from dead-stock fabrics and recovered ocean waste such as plastic bottles or fishing nets. Detached from the seasons of the fashion industry, we introduce timeless capsules every few months and only stock a group of core garments at a time. We hope our pieces will bring you so much joy for years to come.

Follow and Shop:
@essentialsforzula
Shop
---
Coco Malou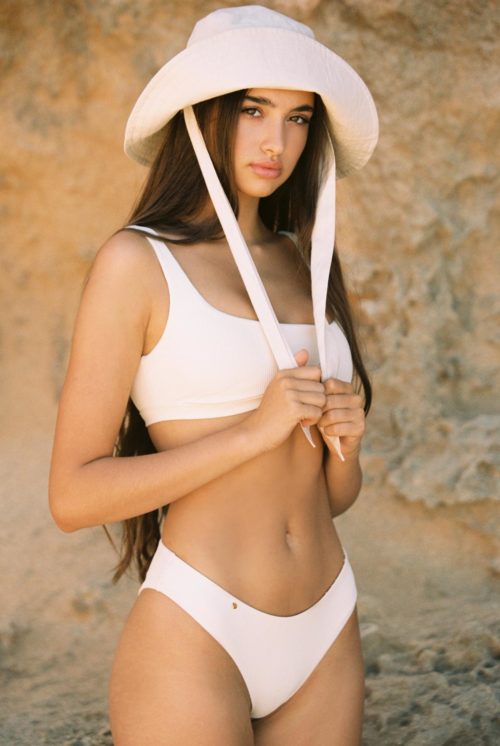 Coco Malou is an ethical and sustainable startup from Germany. Mainly focusing on lingerie und loungewear made of sustainable and vegan materials like Tencel and recycled lace the business is on a mission to change the fashion industry. Since 2021 Coco Malou also offers a new collection of sustainable swimwear, consisting of seven pieces in three different colours, perfect for mixing and matching. Like the underwear the bikinis and swimsuits are being ethically produced in Portugal. Additionally a tree is planted for every sold set of underwear or swimwear.
Follow & Shop:
Shop
@coco_malou_ethical_lingerie
---
Nesiancoco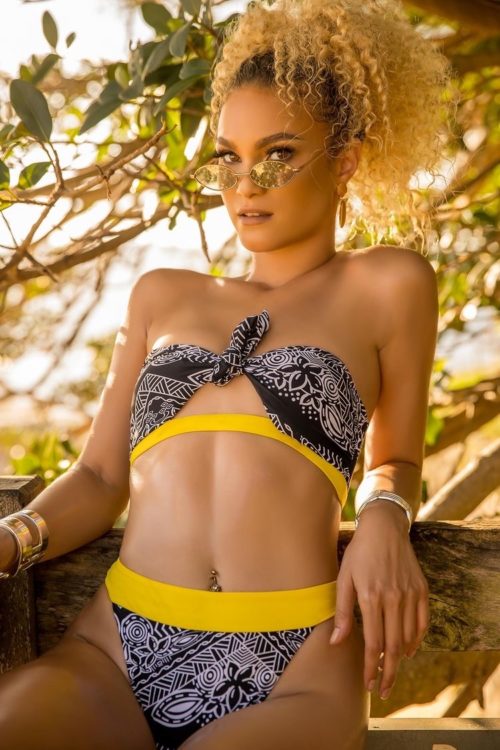 A female-owned, ethical and sustainable brand inspired by Papua New Guinean designs. Unique and figure faltering. Our mission is to create a swimwear line that, not only caters to women of all sizes but cares for our planet and gives back to the women of Papua New Guinea. Stand out with these one of kind Melanesian prints.
Follow & Shop:
@nesiancoco
Shop
Yindi and Salt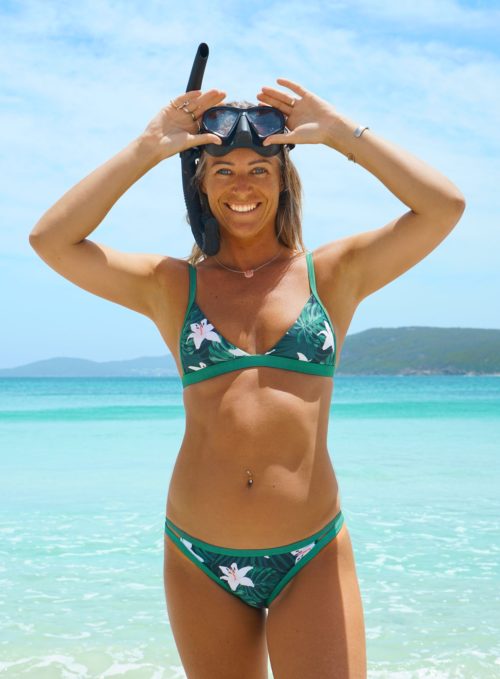 Born from the love of sunshine and the ocean, Yindi & Salt is an Australian sustainable swimwear label designed for the sun, surf and women with an adventurous soul. Featuring a range of reversible bikinis with exclusive prints and a colour palette designed for multiple mix & match options, one pieces and surf suits. These eco-friendly pieces are made from luxury italian lycra produced using recycled ocean plastics such as water bottles and fishing nets, helping to protect what we love. 

Follow and Shop:
@yindiandsalt 
Shop
   
Tide + Seek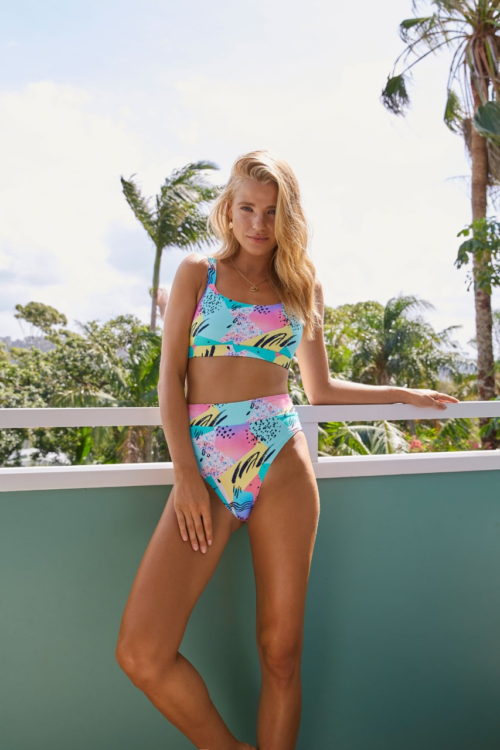 Tide + Seek is a sustainable swimwear and activewear brand, specialising in exclusive premium swimwear, hand-made from Bali. All of our unique prints are fun and youthful. Summer will alway be with your when wearing Tide + Seek Swimwear. The brand was founded in 2018 when Samantha Thomas took her passion for surfing and used it to address the world's plastic pollution crisis. Launching her first capsule line of swimwear for SS19, Samantha's vision of producing eco-friendly products lies at the core of everything the brand does. Devoted to bringing environmentally improved swimwear to the fashion industry, Tide + Seek's love of the ocean continues to drive the company forward.

Follow and Shop:
@tide.and.seek
Shop
---
Chance Loves
Chance Loves is a California-based lifestyle swimwear brand, specifically for tween, teen, junior girls, and young women. A collection of super-soft, on-trend bikinis, one-pieces, separates, padded tops, as well as full- and cheeky bottoms, Chance Loves offers something flattering for everyone, with comfortable, age-appropriate cuts and beautiful designs. Conscious about global warming and making an effort to help the planet, Chance's latest Collections are all made from a blend of sustainable fabrics sourced from recycled clear plastics and fishing lines, which only requires a fraction of the heat, water and energy typically required to make regular swim fabric, and keeps plastics out of our oceans

Follow and Shop:
@chanceloves
Shop
---
Kelapa Wear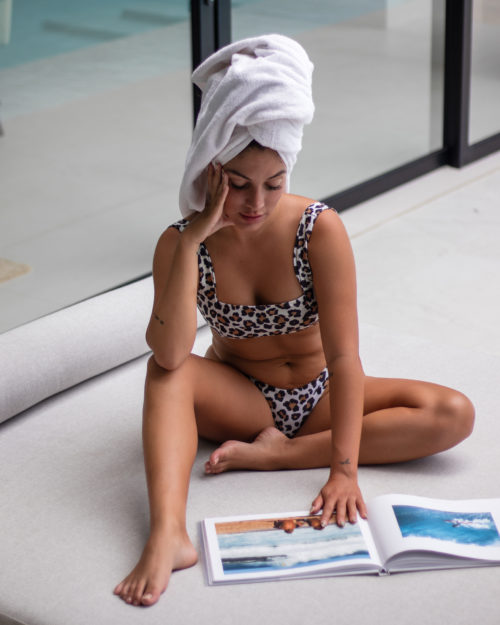 Kelapa Wear have chosen ECONYLⓇ as fabric supplier. Their swimwear is 100% made from recycled plastic from the ocean (mainly fishnets) that is then turned into nylon. The quality of the fabric is world-class and the feel of the fabric on your skin is soft and smooth. The way the fabric holds your body is always flattering. And just a bit about us. We are a brand owned and operated by women. Proud to be women empowering women. Kelapa Wear is designed, produced, and created from scratch for women by women.
We are a family, not a business. And we would love for you to be part of it! Thank you for being part of our Kelapa fam! We love you beautiful, powerful woman!!

Follow and Shop:
@kelapawear
Shop
---
NAKARI & LUI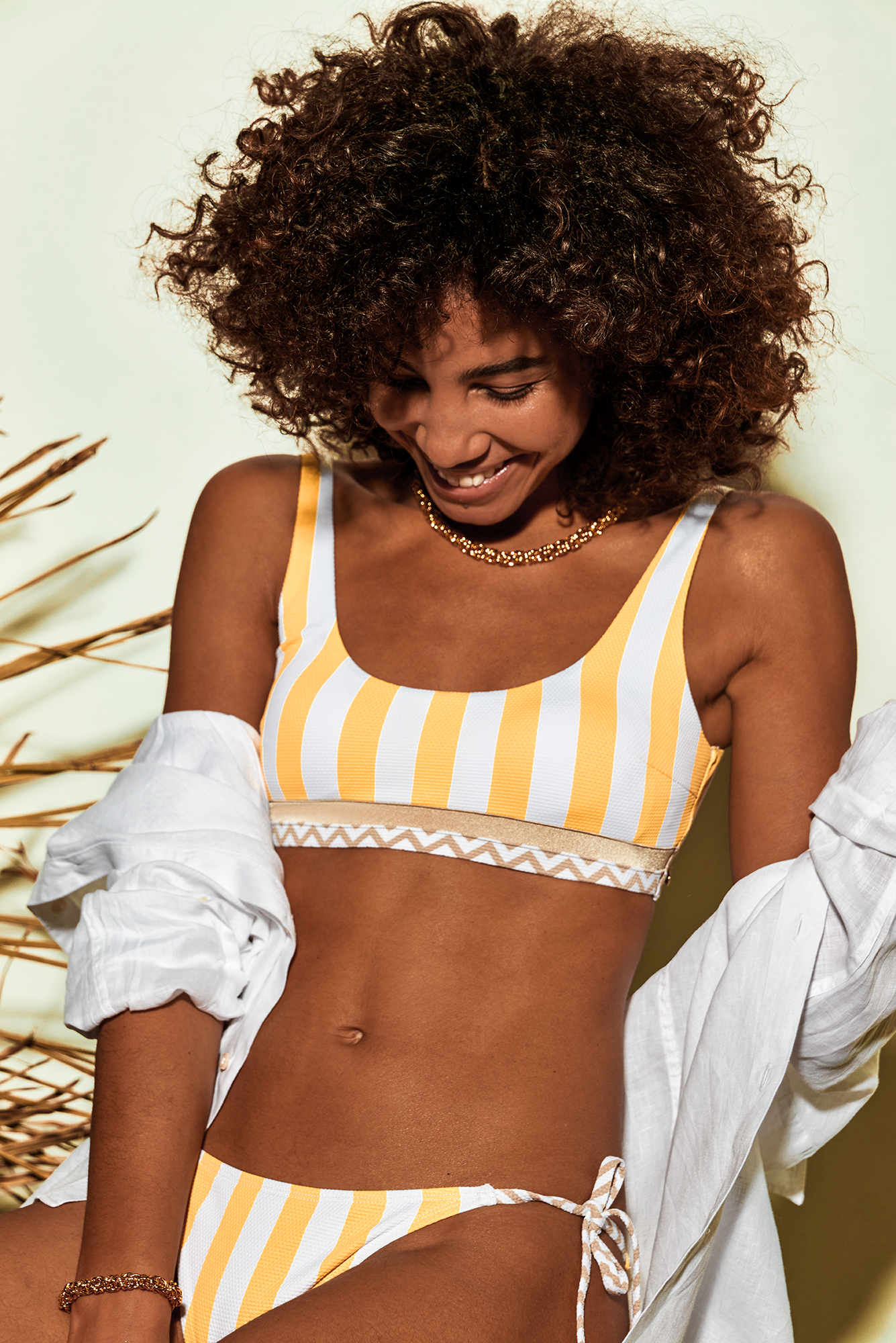 Founded it 2019, NAKARI & LUI is a German sustainable beachwear and apparel brand.Designed for fashionable and independent women, the extravagant styles are made from recycled Italian and Spanish fabrics. The fabrics have been produced from ocean plastic and fishing nets. Only high quality European fabrics that feel soft and smooth on your skin are used to produce the swimwear.You can find NAKARI & LUI designs online and in several popup stores within Europe.

Follow and Shop:
@nakariandlui_beachwear
Shop
---
Aqua Lima
Aqua Lima is a Portuguese sustainable high quality swimwear brand, with the goal of reducing the environmental footprint associated with the fashion industry.
The collection features elegant timeless pieces made from ECONYL yarn and a handmade line, composed by crochet bikinis made with organic cotton certified by GOTS and recycled lining.
Each piece is carefully thought and produced with materials that stand out for their quality and durability, with the aim of inspiring all people to be free, confident and the best version of themselves.

Follow and shop:
@aqualimaswimwear
Shop

---
PLAYA
We work with 100% Colombian fabrics, we are a local and sustainable product, we use recycled Bahia textiles made from used plastic bottles. Taking a responsible part with the environment. In all our productions the waste is minimal, we support slow – fashion and fashion with sense. We are only women who work behind the project, we believe in the power of women, we work with women heads of families who have their workshops at home, as their own entrepreneurship. In this way we create a support network between us.
The fabric is knitted base, made with recycled polyester, with a second-skin touch, fabric with high adjustment to the body both dry and in contact with water.
Maria C Castro the creative director is a Colombian journalist. Who gave to know her brand in 2016 with the desire to create sunwear garments. Designed between California and her native Colombia. The pair's minimal pieces and interchangeable separates are timeless and modern in their discerning simplicity.
Marias inspiration in born from union among contemporary and authentic women who carry out basic and luxury lifestyle and legacy of tropical summer
Follow:
@playasunwear
---
Bombshell Bay Swimwear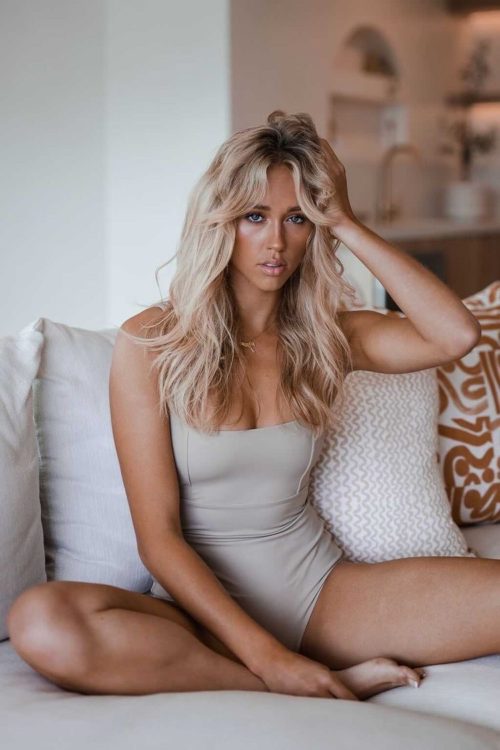 Bombshell Bay Swimwear is an eco-friendly Melbourne label that creates sustainable chic swimwear out of floating plastics and other misplaced synthetics that are sadly found in our oceans. We specialise in high and mid waist styles, creating flattering pieces without the skimp.
We are a small but voguish style Australian owned label helping to do our part in making our oceans a cleaner place for our marine life, while we continue to make only the highest quality swimsuits for our customers.
Follow & Shop:
@Bombshellbayswimwear
Shop
---
---
Surfsense
Surf Sense has taken another step forward by producing suits from fabric that is made from recycled plastic bottles, known as Repreve. Approximately 15 bottles regenerated into the yarn create one suit.

Follow and Shop:
@surfsense
Shop
---
Norba
The multifunctional clothing brand Norba presents its first eco-friendly Swim collection. Created by women for women, the brand is expanding its range of products – now #Norbagirls will feel comfortable not only at home, while exercising or running daily errands, but also at the beach or by the pool. Remaining on its path to sustainability, Norba has once again chosen regenerated nylon ECONYL®️, made from recycled ocean plastics and textile waste.

Follow:
@norba.clothing
---
Bromelia
Bromelia Swimwear is entirely ethically made in California championing local women through fair-waged fashion. From the design stage through to pattern making, from sewing to putting on the final trims, the women who make Bromelia are appreciated for the work they contribute. Made with the softest Brazilian SPF50 protecting fabric, they'll quickly become your go-to!

Follow:
@bromelia_swimwear
---
Makara Wear
Makara wear is a European sustainable swimsuit and apparel brand geared towards independent and adventurous women who value fashion, comfort and elegance. Makara wear's designers have worked very hard to create a product that is simple, yet sophisticated – with modern women and their needs in mind. Makara's SWIM-WEAR LINE has been internationally recognized by active ladies that are into water sports. Our suits are made using top Recycled Nylon Lycra ECONYL® . Recycled ECONYL – made from regenerated ocean plastic material and harvested from discarded fishing nets material and have been tested in various waters and weather conditions. Makara wear suits hug a body like a glove, giving an opportunity to be active in style and perform at your peak, eliminating all the worries of the suit not fitting properly.

Follow:
@makarawear
---
Santos Swim
Santos Swim is a globally-conscious swimwear brand creating destination-inspired designs using luxury, eco-friendly fabrics. The company chooses recycled materials before new ones, designs based on style rather than trends, and values transparency over exclusivity. By focusing on sustainable and ethical practices, this women-owned company inspires its community to live consciously.

Follow:
@santos_swim
---
Marwida
100% Recycled Luxury. Marwida is founded as a climate smart brand. Elegant swimwear produced in the highest quality, made to last long and dry quickly. Created and designed from only recycled materials. Most of the plastic litter in this creative reuse comes from the Mediterranean Sea. To us it is natural to stay on this path. By wearing a pair of Marwidas while swimming in any ocean, you will be part of closing the loop. The essence is style, and a sustainable relationship to sea and coast.
Follow:
@marwida.official
---
Aequor Brand
Aequor Brand is a slow, sustainable fashion brand from Portugal, where the customers are invited to invest mindfully in well-made, long lasting pieces, mostly made out of recycled fabrics, and which production is focused on quality, rather than quantity. Since all items are produced on demand, there is no excess production or unwanted textile waste. Our main goal is for you to love your piece forever, so… who, better than you, to create it? Here you can choose your favorite styles, colors, patterns and sizes, feel free to mix, match, buy a single piece or a cute combo!

Follow:
@aequor.brand
Horizon Athletic
This swimwear brand brings together fashionable apparel and the love of salty skin. Orginating from Sydney, Australia. They have mindfully created the brand to reflect the love and respect for the environment as a whole and to tackle and raise awareness of the issues facing our planet, one of which is the enormous amount of plastic waste in our Oceans. They source their fabrics according to function alongside sustainability. The active and swim range is made with Econyl®, a recyled fibre made from abandoned fishing nets and other post consumer waste.

Follow:
@horizonathletics
---
Olivia & Prescott
Olivia & Prescott was born in the mind of Yvette Fernandez, a restless and curious soul, a traveller in love with art, design and clothing, the beach and the sea, nature and animals, sea and mountain sports. The concept is basically the love for design with a palette of colours inspired by the nature and inspiration for art.
Olivia & Prescott create sustainable swimwear for love. For love of nature, for respect, for love of animals and plants, for the beaches and the sea, for our planet, because we love the Earth… Read more

Follow:
@Olivianprescott
---
Rawa swimwear
Rawa was created with the vision that fashion and going green can coexist. Sustainability is the value and they feature pieces made exclusively from sustainable fabrics made from recovered fishing nets and post-industrial waste.

Follow:
@rawaswimwear
---
Gilo Lifestyle
GiLo Lifestyle is a South African online store based in Cape Town, South Africa and established in 2015. It began with Gina and Loren, two women with a love of fashion and the environment. Hence the name GiLo (pronounced- Gee Low). It is also an acronym for Giving Love back to the planet. The recycled fabric used to make up one pair of men's board shorts or lifestyle shorts is made from 20 recycled bottles.

Follow:
@Gilolifestyle
---
For The Water swim
Classic aesthetic that could withstand time, and something fresh that would stand out amongst the saturated swimwear market. Offering only limited styles and quantities to reduce having to offload styles that didn't sell well. For the Water Swim currently use luxurious yet sustainable fabrics in the majority of our collection and wherever possible. These fabrics are made from post-consumer waste, such as, plastic bottles and fishing nets. Our use of these regenerated and recycled materials prevents waste from accumulating in our landfills and oceans. In addition to the recycled fibers, our fabric also offers remarkable performance features including protection from UV rays, resistance to chlorine and sunscreen creams, anti-pilling capabilities, great elasticity and sheer softness against your skin.

Follow:
@forthewaterswim
---
MARDA
MARDA is a modern men's swimwear brand from Denmark – obsessed with creating a better world by using plastic from our oceans to make premium swim shorts that are made to last. Our philosophy finds the harmony between plastic and design to create highly sustainable swim trunks bought to life with the best in Japanese fabric technology.
The driving force behind MARDA is simple. to design swimwear for men by unifying exclusive forward designs with a highly green focus.
Buying a MARDA product is about joining lifestyle that cares our future. every production step from sourcing recycled materials to the design aesthetic right through fabric innovation enriched by creative touch and profound love for earth.
Follow:
@marda.swimwear
---
Conscious Swimwear
Conscious Swimwear aims to be your sustainable brand when it comes to beachwear. Launched in 2019 the brand stands out from the crowd with its simplicity in design and concept. Designed and handmade in Lisbon using fair labor the sustainability efforts of the brand are much more than just the recycled fabric. All packaging is eco friendly. Their ECONYL® yarn is sourced from Italy, where it is evaluated as a high quality, durable and sustainable techno-fibre.

Follow:
@conscious_swimwear
---
Instant Swim
Instant Swim is a sustainable swimwear company aimed at both competitive swimmers and those who swim just for leisure. They only use innovative fabric made from recycled yarn and ocean waste.

Follow:
@instantswim
---
Emma Kristina Swim
Sustainable swimwear made of nylon waste such as recycled plastic bottles and fishing nets that have been recovered from our oceans and recycled. By regenerating waste, Emma Kristina Swim not only making it new again but also saving boatload of precious, finite resources and energy whilst also reducing carbon emissions. The origins of the fabric are of superior quality and is soft and luxurious; but strong and durable, and holds its shape to last.

Follow:
@emmakristinaswim
---
Vincija Swim
At Vincija Swim every single bikini is lovingly handmade to order in our studio on the Gold Coast. Australia and we are wholeheartedly committed in making all women feel sexy, carefree and confident in a bikini, all while doing our bit to help the environment and reduce waste.

Follow:
@vincijaswim
---
Wonda Swim
WONDA believe that the world can't continue to make clothes that do not consider our environment, and therefore are of the opinion that sustainability should no longer be a choice but a necessity. For the sake of an industry change, they want to prove that it is possible to do balanced business by redefining the way fashion gets produced and consumed. They are continuously working on reducing the footprint that their business produces while improving their social and environmental impact along every single part of the supply chain.

Follow:
@wondaswim
---
Une Piece
Une Piece delivers must-have swimsuits for women with timeless style and sensuality. Our Original Sexie Rashie® is Australia's newest swimwear icon redefining sophistication by the water. Crafted from high-quality Italian fabric and designed to flatter and inspire confidence.

Follow:
@une_piece
---
Soca Blue
Environmentally conscious, ethically sourced, and sustainably created swimwear. Made with plastics and fishing nets from our oceans.

Follow:
@socablue
---
Kaikini Bikinis
Sustainable and ethical bikinis and swimwear made on Kaua'i

Follow:
@kaikinibikinis
---
Kyah Swim
You should not have to sacrifice fit & fabric for price. Kyah swim wanted to change that. Eco-friendly luxe fabrics at an affordable price point, and human and environmental rights were all non-negotiables when creating the brand. Kyah is more than a cute bikini… it's a community of body-positive, confident, babes who support our mission for Eco & Ethical fashion.

Follow:
@kyahswim
---
Marble Swimwear
Most of our swimwear is made using luxurious Italian fabric made with 78% Econyl®, a recycled fibre made from recycled plastics such as abandoned fishing nets, water bottles and other post-consumer waste.

Follow:
@marbleswimwear
---
Jordyn Leah Swim
Jordyn Leah Swim pieces are made from a newly developed fabric that holds up incredibly well to wear, feels nearly as if it were just a second skin, and when the piece no longer brings joy to your life and you wish to dispose of it, you can throw it right into your recycle bin! Once it travels to your local landfill it reacts to the soil nutrients and gasses emitted for the degrading process to be activated.

Follow:
@jordynleahswim
---
Ode & Rae
Ode & Rae have teamed up with the Aquafil group who produce sustainable techno fabric made with ECONYL®. All pieces are made from 100% regenerated nylon yarn derived from pre and post industrial waste. – simply put this means less plastic in our oceans. All materials (including packaging) will be completely eco-friendly and recyclable.

Follow:
@odeandrae
---
Mymarini Swimwear
For surfers and everyone who cares & loves sports, water, good design and our planet. Mymarini is a brand for grown up, it is elegant and at the same time fashionable & cool. Produced with a minimum impact on our planet.

Follow:
@mymarini_swimwear
---
Elation Surfwear
Elation is a sustainable and ethically focused lifestyle label created for the women who feel at home in the sea.

Follow:
@elation.surfwear
---
Narah Soleigh
Sustainable swimwear & more – for those who like to dress sustainably without compromising on style. Ethically made from recycled and organic materials.

Follow:
@narah.soleigh
---
Londre
Motivated by Mother Earth, we introduce a swimwear collection balanced in sustainability and design. Whether you are at the beach soaking in sun rays or looking for the perfect match for a night out, our suits wear equally well in water and on land. With every garment we protect the ocean by using materials derived from recycled plastic bottles and the lowest water usage in fabrication. We believe in keeping your mind dirty, the earth clean and that the best life decisions happen after one or two margaritas. May our beach dreams inspire a movement.

Follow:
@londrebodywear
---
Suro Swimwear
Is a sustainable swimwear brand based in Mallorca. Clean and effortless take on timeless Bikinis & Swimsuits.

Follow:
@suroswimwear
---
Ambinca
100% vegan, plastic free and cruelty free swimwear. Ambìnca uses one of the most certified, earth friendly fibres in the world. It's high quality recycled polyester yarn made from recycled materials including post consumer plastic bottles and plastic captured from the sea, thats why it contributes to preserving natural resources and reducing the waste in the planet's water.

Follow:
@ambincaofficial
---
Abysse
Abysse aims to align women with ideals of sustainable fashion. We aim to create a garment made out of environmentally conscious materials, reducing our footprint on the planet. As a conscious creator, they celebrate the opportunity to include ideals of Mother Nature, of women, and a sustainable future together. Sustainability is the fundamental value of Abysse's mindset. They strongly believe that 'sustainability should not be a marketing tool, it should be a requirement'.

Follow:
@abysseofficial
---
Chiwitt
The Chiwitt bikinis are made of recycled plastic and ocean waste such as fishing nets. Chiwitt are using Repreve fibres in all their clothes.

Follow:
@chiwitt_official
---
Fitmermaid
Aware of the polluting effects of "fast fashion" and sensitive to the environmental issues facing our beautiful planet, Fitmermaid have made it an honor to provide an ethical and sustainable brand to the world.

Follow:
@fitmermaid.fr
---
In Your Arms
In Your arms is a conscious brand.In Your Arms designs and produces all of their unique garments and signature knit fabrication.

Follow:
@weareinyourarms
---
Zulu & Zephyr
Zulu & Zephyr is a lifestyle brand cultivating cool, beautiful and effortless swimwear and signature designs for modern women around the world.

Follow:
@zuluandzephyr
---
The Summer House
Every swimwear style in The Summer House is made with a revolutionary fabric ECONYL®. It is made out of 100% regenerated nylon. Ocean waste like fishing nets or fabric scraps that were otherwise destined for landfills are processed to create a whole new fabric with zero waste. But it gets better. ECONYL® is Oeko-Tex certified which ensures that there are no hazardous chemicals used in dyeing the fabric.
Why do we make our swimwear with Econyl?
640,000 tonnes of fishing lines, nets and ropes are left in the ocean in each year
The fishing gear is a floating death trap that kills around 100,000 animals every year including whales, seal & turtles
I takes centuries to degrade, which makes the killing power long lasting
Follow:
@thesummerhouse.in
---
Little Paradise Swim
We are committed and motivated towards creating a more ethical and sustainable planet which is why we use 100% eco-friendly materials made in the USA.

Follow:
@littleparadiseswim
---
Alulu swim
Alulu are making conscious steps towards sustainability, and are committed to minimising our footprint on our planet through our business practices and manufacturing processes.

Follow:
@aluluswim
---
Thaikila
At Thaikila, we embrace beauty, innovation, and sustainability at our core. With the 'Tralala' for the maximalists and the 'Essentials' for the inner minimalists, we craft flattering cuts for every profile, and swimwear for every shape and every size.

Follow:
@thaikila
---
Lanni studios
Lanni Studios is an earth conscious brand built upon sustainable and ethical values.

Follow:
@lannistudios
---
Tuhkana
We are committed to make socially and environmentally conscious products. Sustainability should not be a trend but the new standard.

Follow:
@tuhkana
---
Marjurio
Sustainable swimwear from Brazil.

Follow:
@marjurio
---
B| THE BEACH BRAND
At B| THE BEACH BRAND are consciously making decisions to minimize footprint and impact on the environment right from the start of the design phase, all the way through to the final product.

Follow:
@b.thebeachbrand
---
Sundaze Bikini
Each bikini is handcrafted using fabric recycled from ocean plastic. Everything from our shipping bags, the paper we use, hang tags, and fabric is made from recycled materials. Instead of cutting trees for paper products, plastic sitting in landfills or on beaches, these materials are broken down and reconstructed into Sundaze Bikinis products.

Follow:
@sundazebikini
---
Halla Halla
Halla Halla transforms plastic waste into reversible swimwear that stands out. Our SELF LOVE ZONE collection has been inspired by you amazing, strong, real and empowering Halla Huns!

Follow:
@hallaxhalla
---
Pelican House
Our founding purpose is to aid ocean conservation and island habitat restoration by raising funds through the commerce of consciously made swimwear. We want to heal the planet, without causing further harm, therefore everything we do and create must be aligned with those same values

Follow:
@pelicanhousesc
---
Round Rivers
We call it "ACTIVE SUSTAINIBILITY". We become active ourselves! Cleaning the environment generates our own raw material. A new, holistic approach to sustainability. We only sell the amount of outfits we can produce with the material we have collected.

Follow:
@roundrivers
---
Flook
Flook is a contemporary range of ethically-made swimwear, beachwear and accessories, brought to life in Bali by talented local artisans using locally-sourced, sustainable materials and plant-based dyes.

Follow:
@flookthelabel
---
Studio Verandah
The label makes a conscious effort to support post consumer zero waste, and sustainability.

Follow:
@studioverandah
---
Evarae
As a brand we are becoming even more environmentally conscious as our world changes around us and so does climate change.We strive to create a product that is both ethical & sustainable.We are Conscious Luxury. We believe in the 3 pillars of sustainability. Social, economic and environmental.

Follow:
@evarae_
---
VDM
VDM are a team of progressive, passionate, free thinkers, creating bikinis from fabrics sourced from recycled consumer products such as water bottles and fish nets dragged from the ocean.

Follow:
@vdmthelabel
---
Irvetta
Irvetta is a women's eco-luxury swimwear label created with innovation by four sisters. The London-based collection was established out of a shared desire to create modern swimwear that evokes a sense of beauty, elegance, and romanticism. This juxtaposition is intrinsically connected to the Irvetta woman who finds an equilibrium between nature and modernity.
Passionately crafted from the finest Italian fabrics, Irvetta swimwear is as much about versatility as it is style. Irvetta resort wear is made from pure silks and is cut to classic silhouettes. Each exquisite piece is designed to be comfortable yet enchanting, effortlessly taking you from day to evening and everything in between.

Follow:
@irvettaswim
---
Savari Swimwear
Finnish Designer living in Australia. She combine her passion for fashion and recycling. She have a lovely, small team in Bali, who manufacture the Savari Swimwear and bring the designs alive. The team are passionate about recycling and about the environment, so they make sure they do their part in the manufacturing process.

Follow:
@savariswimwear
---
TET. Swimwear
TET. Swimwear's primary focus is to build a brand that effectively tackles debris reduction, particularly the plastic that litters the sea. All of our swimwear is crafted from Repreve. Not only are our pieces made from sustainable materials, they are either reversible or interchangeable, so once you purchase an item from our collection you can wear it again next season.Using waste from the ocean to create on-trend and high quality swimwear that will eventually find itself back there through the wearer, the circle is complete.

Follow:
@tet.responsiblewear
---
Livable Swim
Livable Swim is for the girl who dares and cares. Livable Swim designs are created with a feminine, sexy and unique take on slow fashion swimwear and are made exclusively with one of the best recycled Italian fabrics.
All of our products are handmade to order with material efficiency in mind. We aim to waste as little material as possible when producing our swimwear. At Livable Swim we value the planet we stand on. That's why we want to reduce the amount of new raw materials we use by only using recycled materials. The fabric we use for our swimwear is 78% recycled PA (Nylon) and 22% EA (Elastane). We take our goal of sustainability to the next level by also making our polybags, labels and hang tags from recycled materials. Our products are ethically produced to order in Amsterdam, The Netherlands.

Follow:
@livableswim
---
Piwari
Piwari offer swimwear produced with up-cycled plastics recovered from the ocean. The sustainable techno-fabric is made with ECONYL® yarn. All pieces are made-to-order, which means no excess, no unsold products. When you place an order, they start to produce your swimsuit or bikini especially for you.

Follow:
@piwariofficial
---
Ria Swim